FROM PERU TO ARGENTINA IN 39 EPIC DAYS – THE KALMAR BEYOND ADVENTURE GALLERY OF A LIFETIME IS NOW LIVE
Gallery launched by events industry's best kept secret, KALMAR Beyond Adventure
Showing how nine purpose-built KALMAR Automotive 911s tackled their toughest test yet on a 39-day trek, starting in Lima, Peru finishing in Ushuaia, Argentina
Organised by KALMAR Beyond Adventure, the sister company to the automotive build specialist, the Trans-Andes Rally is one of the most demanding events so far
Off-road KALMAR Automotive 964- and 993-series, air-cooled 911 models modified to be used in adventurous environments normally not visited, all rally prepared with special wheels, roll cages, underbody protection and lifted rally shock absorbers
Website: www.jankalmar.com and www.kalmarautomotive.com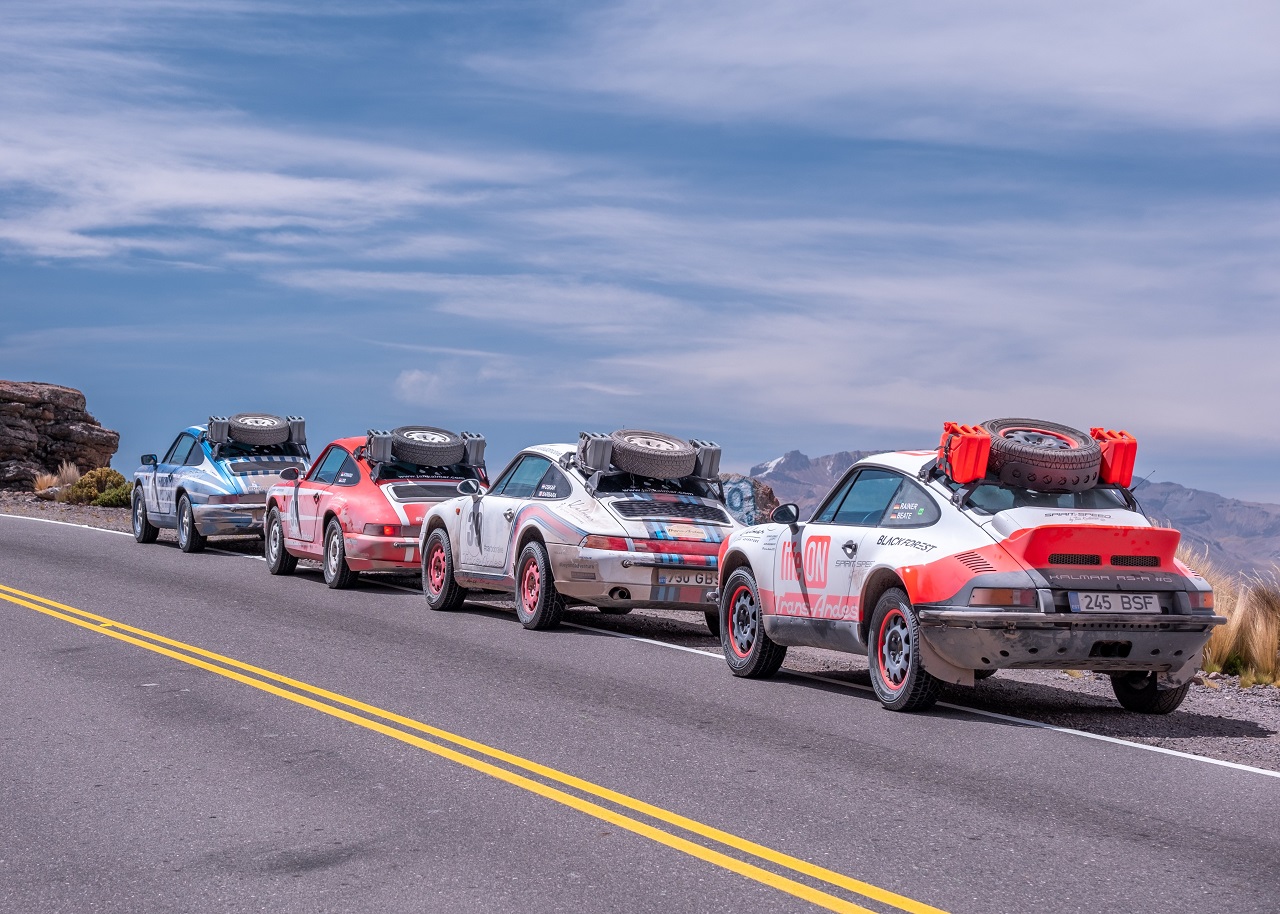 Ushuaia, 21 November 2022 – Travelling just shy of 11,000 kilometres in purpose-built, air-cooled Porsche 911s and first- and second-generation Cayennes through some of South America's harshest terrains over 39 thrilling days, KALMAR Beyond Adventure's (KBA) privateer teams triumphantly crossed the finish line of its Trans-Andes rally last week. With specially equipped 964- and 993-series 911s, along with special purpose Cayennes, all built by sister company KALMAR Automotive (KA), expertly crafted routes, crossings, and logistics by the KBA team, all eight crews have successfully completed the remarkable journey from Lima to Ushuaia.
Established by Jan Kalmar, KALMAR Beyond Adventure was founded on a passion to take like-minded explorers, Porsche fans and private individuals to the edges of the world rarely seen by car, on bespoke and challenging adventures. In this edition, which finished last week, the eight teams, and cars, all arrived in Lima on 11 October and ended, 11,000 kilometres, 39 days later in Ushuaia, the most southern tip of South America. Incorporating significant scenery and historical landmarks, all combined with the elements of a 'classic' trans-continental rally, KBA took a photographer along for the duration to capture the spirit and essence of the unique South American experience.
The gallery, which can be found at kalmar.prezly.com/media showcases the teamwork, trials, and tests that the drivers participated in during the journey. A challenging adventure unlike other tours and events, this edition featured the crossing of deserts, climbing some of the world's highest roads, navigating the largest salt pan on earth and journeying down parts of the Pan-American Highway. From Machu Picchu to Lake Titicaca, the Atacama Desert to the Uyuni Salt Flat, the participants experienced a wealth of natural beauty from the comfort of their specifically designed vehicles – all tailored to accurately traverse extreme landscapes and enable them to navigate some of the harshest off-road environments the world has to offer – while still retaining their original useability as exceptionally comfortable cars to use for prolonged periods of time.
As a modern coachbuilder that focuses on crafting bespoke, reimagined sports cars and special-purpose adventure vehicles, KALMAR Automotive provided its rally-prepared 911 models for the trip; all of which can be bespoke built for private individuals as well as hired for KBA-specific events. KALMAR Automotive prides itself on creating unique, highly personalised sports cars that are optimised for use both on- and off-road. In addition to its KALMAR CS and CS-R SUV models, the KALMAR 7-97, KALMAR RS and KALMAR RS-R are based on one of the world's most iconic rear-engined sports cars, the Porsche 911, and merge classic design with cutting-edge, modern engineering and meticulous attention to detail.
Jan Kalmar, the founder of KALMAR Automotive, said: "South America is home to some of the greatest ancient civilisations known to man, and when we set out to organise this adventure, it was important to us to make sure we could visit some of the greatest sites and experiences in the world, as well as driving the best roads, of course. That's the purpose of KALMAR Beyond Adventure, to take people to places they don't think they can go in a car and, together with our KALMAR Automotive bespoke builds, give people a vehicle that is not only capable of tackling some of the most extreme and challenging off-road scenarios imaginable but one that is also supremely usable when it comes to handling regular, day-to-day driving.
"When we set out on this particular adventure, we pre-selected teams from previous adventures, knowing that they had what it took to take on the challenge, but also work together as a team. If we thought we knew each other before, well, we're practically family now, and definitely friends for life!"
For more information about upcoming Beyond Adventure events, interested persons should visit www.jankalmar.com or email office@jankalmar.com.
To learn more about how to bring an automotive masterpiece to life, or your own bespoke KALMAR Automotive build, please visit www.kalmarautomotive.com or email inquiries@kalmarautomotive.com.