The Vertex Watch Company confirmed as the latest sponsor to join Caterham Motorsport for the 2023 season
The Roadsport series will now be referred to as the Vertex Caterham Roadsport Championship
Vertex Caterham Roadsport Championship is the next step on the ladder for Caterham Academy drivers and includes 14 championship races this season across seven weekends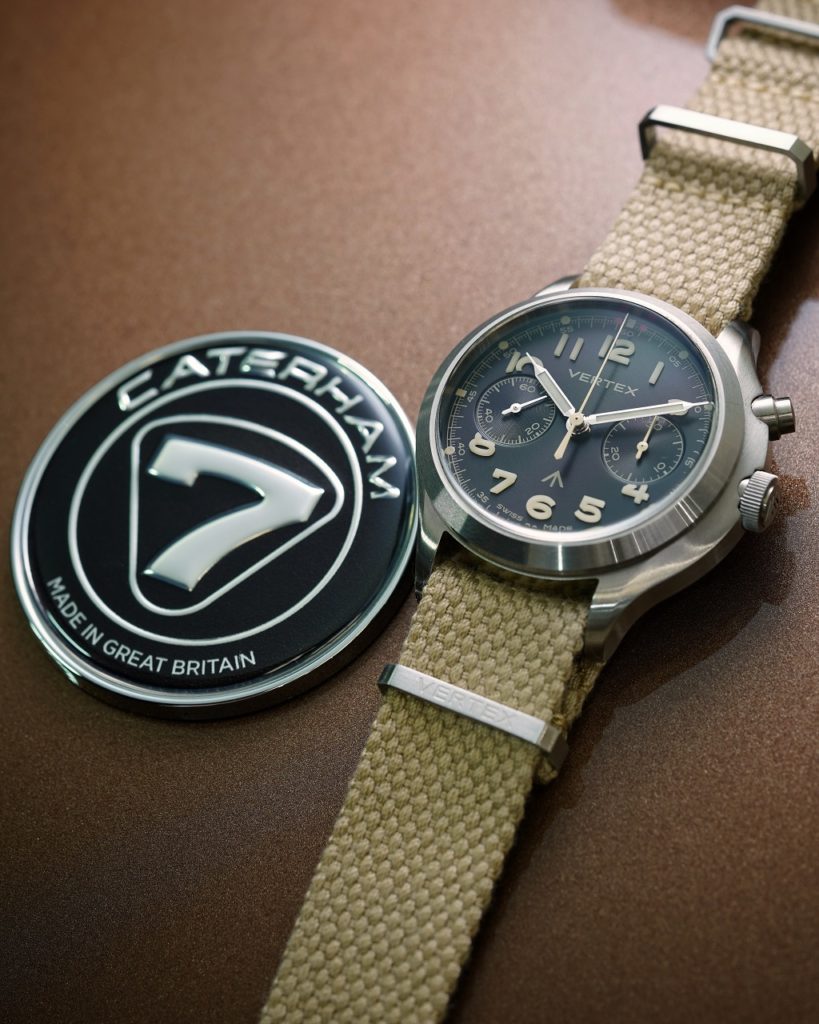 Dartford, Thursday 30th March – Caterham has announced The Vertex Watch Company will become the headline sponsor of the 2023 Caterham Roadsport Championship.
This year, the Roadsport season will be referred to as the Vertex Caterham Roadsport Championship. The new partnership between Vertex Watches and Caterham, featuring that intrinsic link between precision time keeping and competitive motorsport, comes as the British sports car brand celebrates its 50th anniversary this year.
Both brands are synonymous with classic, timeless design and a rich British heritage. This partnership will see all Caterham Motorsport race cars adorned with Vertex branding in addition to further product and event collaborations throughout the year.
Vertex Watches was founded in 1912 in Hatton Garden, London, by Claude Lyons and became famous for both the military and civilian watches. It is now run by his great-grandson, Don Cochrane.
Don Cochrane, Chairman, Vertex Watches said: "Vertex Watches and Caterham are perfectly aligned – precision engineering, attention to detail, and a relentless pursuit of performance, both on the road and on the wrist. We very much look forward to working together."
David Ridley, Chief Commercial Officer of Caterham, said: "We're very excited to welcome Vertex Watches as the championship sponsor for our competitive Roadsport grid in 2023. Our two brands are renowned, in their respective industries, for producing highly desirable products and we're excited to see what new opportunities this partnership can bring both on and off the track."
The Vertex Caterham Roadsport Championship is the next step for novice Caterham Academy drivers. Drivers compete in 14 races across seven weekends taking on familiar competition from their previous year in the Academy Championship.
The road-legal Caterham Roadsport race car is a 125bhp, Ford Sigma powered Academy car, with significant enhancements that include an additional rear anti-roll bar and Avon ZZS Road/Track tyres.
The Vertex Caterham Roadsport Championship begins on Saturday 1st April at Oulton Park.
2023 Race Calendar
1st April – Oulton Park
20th – 21st May – Croft
3rd – 4th June – Zandvoort
24th – 25th June – Silverstone
29th – 30th July – Thruxton
19th – 20th August – Snetterton
2nd – 3rd September – Donington Park
Find out more about the Caterham Roadsport Championship here and The Vertex Watch Company here.