'Freaky Thinking: Thinking that delivers a dazzling difference' is the new book from Chris Thomason, author of 'The Idea Generator' (Pearson) and several other business thinking books.
Chris believes that in business, the most valuable asset we possess is our mind. Freaky Thinking is a new way of applying our mind to deliver dazzling workplace thinking to get better ideas that address our organization's big issues.
The problems and opportunities that organizations face are getting ever more challenging. They exist in an environment of uncertainty which makes them more-prevalent and more-difficult to identify—and harder to address with today's available approaches.
This is where a different thinking is needed. Freaky Thinking. Thinking that is unconventional, edgy, and unexpected. Thinking that anyone, at any level, in any organization can do. And be recognized for.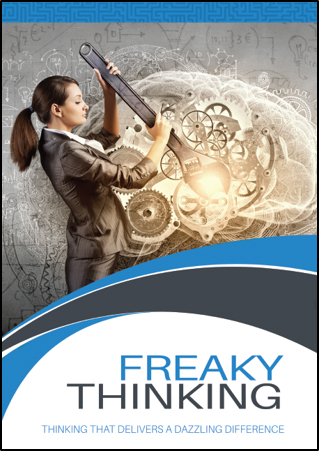 In his book 'Freaky Thinking' Chris explains the process of Freaky Thinking and:
Uncovers the startling pitfalls in workplace thinking today
Explains how different thinking is the work-tool of the future
Helps you access your 'Meanderscape' as the source of new ideas
Guides you through using Killer Questions for all aspects of your life
Reveals some radical new thinking tools to spark practical creativity
Shows you how to become a brilliant Freaky Thinker
Provides a simple template to lead you through the process
'Freaky Thinking' and its companion books 'Excellence in Freaky Thinking' and 'Freaky Thinking templates' will enable you to change the way you think and deliver great value for you, your team, and your wider organization.
Chris Thomason is founder of Ingenious Growth which helps organisations change their thinking to boost innovation, productivity, profits and most importantly, staff satisfaction. After buying a failing manufacturing company and turning it into one of the largest in its sector, Chris now teaches the innovative ways of thinking that lead to his business success.
Chris is author of eight business books including 'The Idea Generator', 'Freaky Thinking', and 'Excellence in Freaky Thinking'. Chris's clients include UPS, Canon, O2, Vodafone, Roche Pharmaceuticals, Touchnote, Lloyds Bank, Toyota, HSBC, Scottish Widows, South African Airways, American Express, and many more. See: www.ingeniousgrowth.com
'Freaky Thinking' is out now priced £9.95