ISLINGTON BECOMES THE LATEST LONDON COUNCIL TO USE EAV EMISSIONS-FREE ELECTRIC BIKES, TO HELP REACH THEIR AGRESSIVE GREEN TARGETS
December 2022 – Islington becomes the latest of five leading London councils to choose EAV eCargo bikes in order to reduce their emissions to meet their progressive green targets and support their constituents.
Over 25 EAVs are now supporting residents in London boroughs and through London local government services, such as Islington Council, Westminster Council, Hackney Council, West End Company, Heart of London Business Alliance and Veolia waste management services.
In addition to the capital, five councils across England and Scotland are also choosing the industry leader EAV to support their green targets and electrification of their fleets.  Cambridge Council, Brighton and Hove Council, Oxford City Council, Aberdeen City Council and Bournemouth Council have all integrated or are considering integrating electric cargo bikes into their services, reducing as much as 1 tonne of CO2 emissions and 1,000 litres of diesel by switching away from polluting diesel vans1.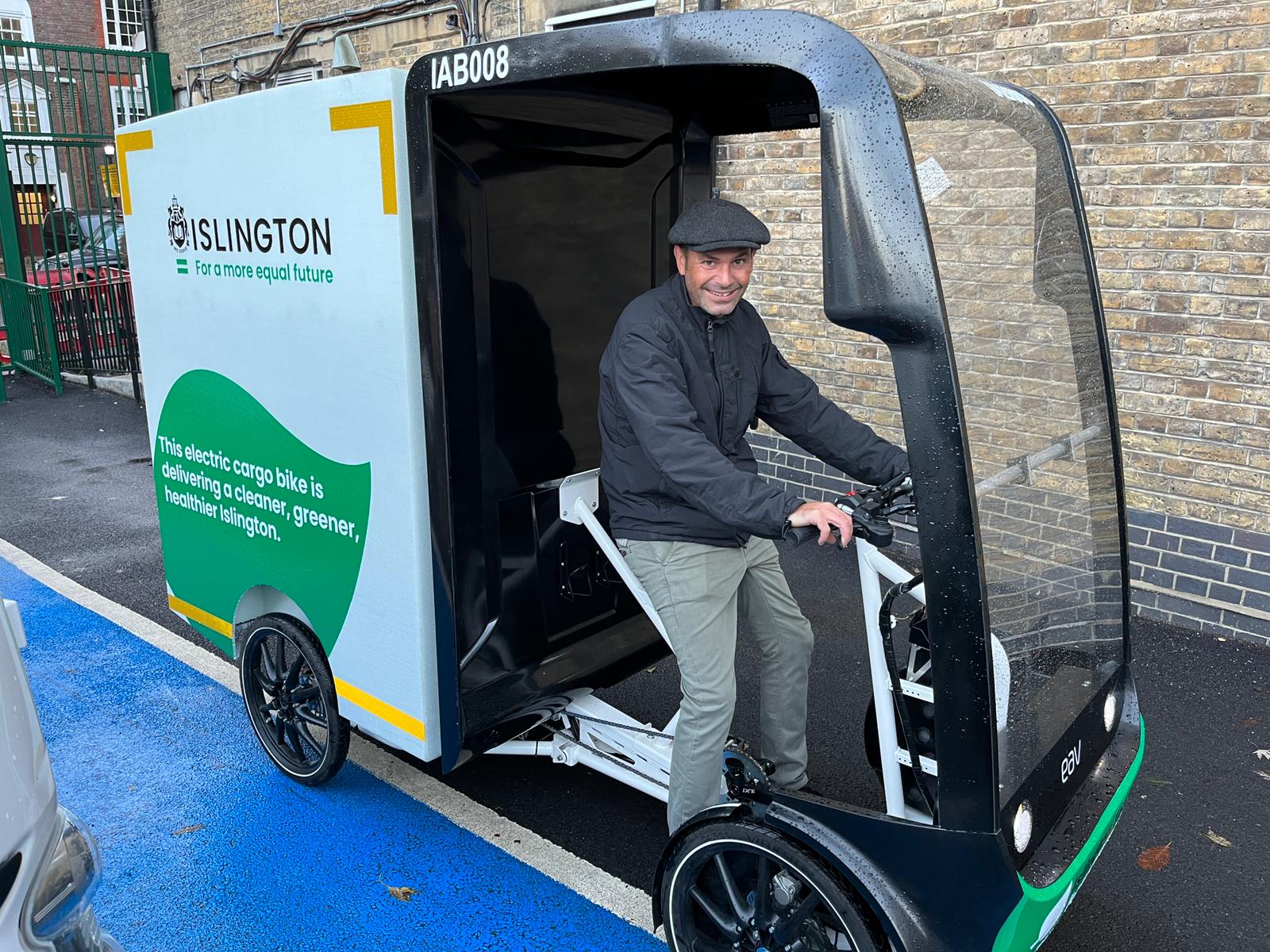 Utilised primarily by Councils in the general facilities management team, Councils continue to choose industry leader EAV to implement innovative, cost-effective and emissions-free ways to make their fleets more sustainable, reduce the amount of motor vehicles they use and further lower their carbon footprint. Each EAV will be used for essential everyday services such as maintenance of grounds and residential areas and transporting essential PPE; all key elements for busy Councils to support their local residents.
The fully electric, ultra-efficient and lightweight vehicles boast a range of 40 miles, produce no emissions and their removable batteries recharge within six to eight hours, making it the ideal addition to any Council's busy fleet. These features have proved popular with a range of industries in addition to Councils, with EAV working with leading blue-chip companies, London delivery services and even healthcare customers.
By replacing three diesel vans with five eCargo bikes, the council has estimated that they will save approximately 1,000 litres in fuel and over four tonnes of carbon dioxide emissions per year through the simple switch.
As part of Islington's ambition to tackle the climate emergency and create a net-zero carbon future, the pioneering bikes will help the council's mission to electrify its fleet through the switch of diesel and petrol vehicles to more sustainable alternatives, such as EAV's 2cubed model to achieve their green targets. 
Cllr Rowena Champion, Islington Council's Executive Member for Environment, Air Quality, and Transport, said: "Throughout the COP27 conference, we've heard painful reminders about the immediacy of the climate emergency, and the need to adapt in order to create a cleaner, greener, healthier future.  Air pollution is major health emergency that affects each and every one of us. The arrival of our new, fully electric EAV 2Cubed electric cargo bikes supports our vision for a more environmentally friendly borough, with these zero-emissions vehicles offering a more sustainable way for council staff to travel."  
Adam Barmby, CEO of EAV, commented: "We developed the EAV2Cubed and EAV2Caged based on making a van more efficient and massively reducing its carbon footprint, to be used in urban areas to reinvent how we transport things in and out of cities and towns; and all without emissions. 
To see these vehicles being deployed by many councils, and now Islington, to replace diesel vans on the road, is a real testament to their tangible commitment to their communities and realises our vision to reinvent the urban transport formula."  

www.islington.gov.uk
www.eav.solutions