Looking for the perfect gift for a sports lover?
From football to rugby and cricket to Motor Racing – Top Trumps has it covered this Christmas!
Top Trumps has been a family favourite card game for almost 50 years and has launched hundreds of titles from Cars to Dinosaurs and Star Wars to Skyscrapers. Check out their sports range…
England Womens Football Stars Top Trumps
BRAND NEW!
Celebrate the successes of the England Women's Football Team in this exciting new England Womens Football Stars edition of Top Trumps! This stunning new pack contains some of the greatest players to put on the white shirt and allows you to compare and play some of your favourite players against each other, weighing up the stats and seeing who comes out on top! Who has more trophies, Leah Williamson or Beth Mead? Who has more appearances for England, Lucy Bronze or Mary Earps? Learn as you play and read all about each player from the biographies on the cards, discover mind-blowing facts like who scored the most goals at the World Cup?, or that Beth Mead used to captain an all boys team! All this and more in the England Women's Football Stars Top Trumps!
RRP £8
Available on Amazon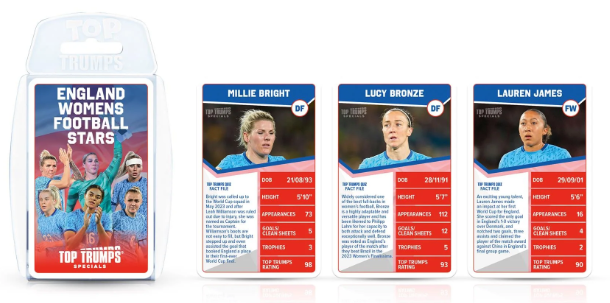 Greatest Golfers Top Trumps
BRAND NEW!
Who's your caddy? It's time to go big or go home with this fantastic new edition of Top Trumps: Greatest Golfers! Take to the course and perfect your swing with this deck containing 30 of the most accomplished men and women in their field. Will Jack Nicklaus's Scoring Average bag you a victory under par, or will you strike a bogey with Arnold Palmer's Top Trumps Rating? Will Seve Ballesteros's Debut Age be enough to clinch the win, or will Betsy King's Professional Victories leave your opponents in the sand trap? With a roster of remarkable golfers including Pat Bradley, Se-ri Pak, Tiger Woods and John Daly, as well as historic hotshots like Ben Hogan and Walter Hagen, this edition is perfect for players of all ages, whether you're a green golfer or a pro with a putter. Be the first player to claim every card for your own to win. See you at the 19th hole!
RRP £6
Available on Amazon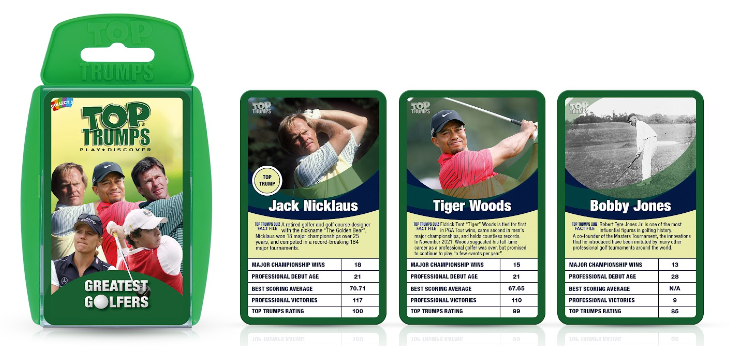 World Football Stars Top Trumps Quiz
The goals, the saves, the trophies — relive it all in this spectacular new edition of Top Trumps Quiz: World Football stars. Take to the pitch with five hundred questions spanning your favourite footballers past and present, with categories including Cristiano Ronaldo, Lionel Messi, Wayne Rooney, Virgil van Dijk and Gary Lineker. Think you can remember which of Eden Hazard's parents was a footballer? Know where Gabriel Jesus was born, or which record Sadio Mané broke in 2015? If your football knowledge isn't up to scratch, don't worry — you can deploy the twist after half-time! Shuffle the questions you've already answered so you can test your memory and run rings around your opponents. This quiz is a must-have for football fans and Top Trumps lovers and is ideal for a quiz night or some indoor family fun when the match is rained off, so shuffle your deck and get ready for kick-off!
RRP £9.99
Available on Amazon

World Football Stars Top Trumps
Discover 30 of the world's finest football stars in this action-packed new edition of Top Trumps: World Football Stars. Featuring Cristiano Ronaldo, Antoine Griezmann, Luis Su'rez and many more, discover precisely how many Caps, Goals and Trophies these players have racked up, and battle it out for the title of Top Trump. Each card offers striking photography and a custom bio for each player that tells you everything you need to know about their career so far. Will Dembele's Year of Birth stat win the round? Will you conquer your opponents with Becker's Caps stat, or Kant's Top Trumps Rating? 
RRP £8
Available on Amazon
World Football Stars Top Trumps Match
The beautiful game joins forces with the Crazy Cube Game in this thrilling new edition of Top Trumps Match: World Football Stars. Be the first to match five in a row with your favourite contemporary footballers by inserting cubes into the stylish blue game grid while trying to knock out your opponent's cubes. Play with 15 different footballers including Virgil van Dijk, Lionel Messi, Cristiano Ronaldo, Sergio Ramos and Kylian Mbappe in this fresh take on the beloved matching game. But if your opponent forms a line first, don't worry – flip over one of your Top Trumps cards. If the card matches the winning line, you can snatch the match and steal the win! Perfect for budding footballers, Top Trumps Match encourages memory, observation and logical thinking, and it comes in a handy carry case so you can take it anywhere and kick off another match at a moment's notice.
RRP £15.99
Available on Amazon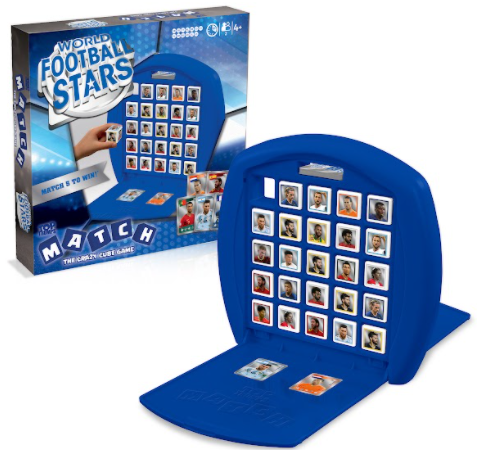 Greatest Football Managers Top Trumps
This exciting edition of Top Trumps: Greatest Football Managers celebrates the strategies and successes of thirty of the most brilliant minds behind some of the best teams from around the world. Featuring José Mourinho, Arsène Wenger, Ellena Hill and many more. With categories like Record Signing and Teams Managed, you're bound to learn some fascinating facts about your favourite managers – and learn plenty about the rest, too. So if you're eager to learn the difference between the "heavy metal football" and "total football" philosophies, or want to know which managers started their careers on the pitch, grab this pack and prepare for kick-off!
RRP £6
Available on Amazon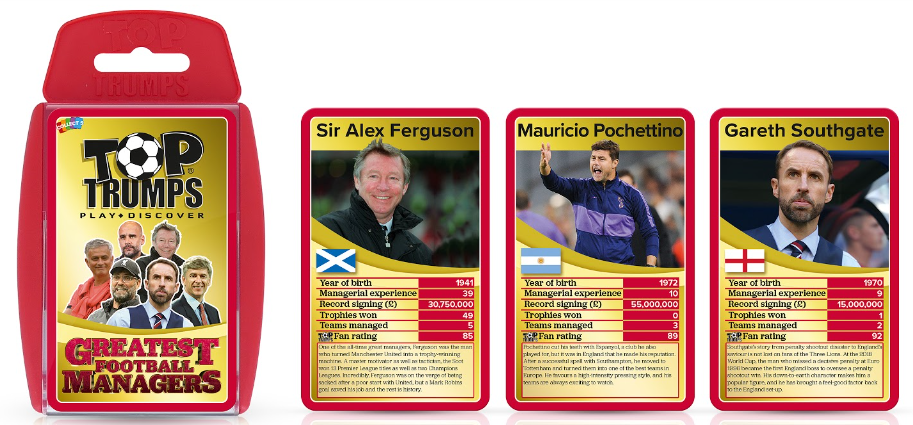 Legends of Football Top Trumps
Discover which of your favourite world football legends scored the most international goals in this fantastic pack of Top Trumps featuring some of the greatest footballers of all time. Find out which footballer scored more international goals – Pele or Cristiano Ronaldo, who had the most international caps – Bobby Moore or Paolo Maldini, or who won the most trophies – Diego Maradona or Johan Cruyff? Whoever is your favourite legend of world football, Legends of Football Top Trumps is the game for you!
RRP £6
Available on Amazon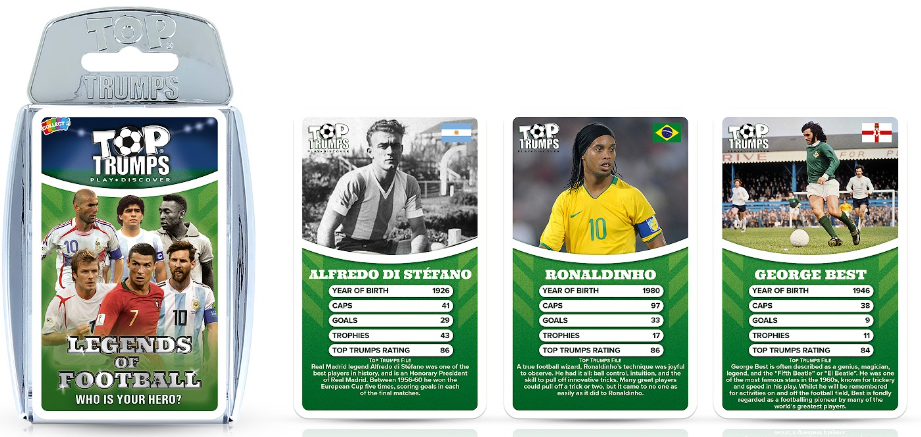 World Rugby Stars Top Trumps
To be a true Rugby fan you need to get yourself a pack of the Top Trumps World Rugby Stars 2021! Bursting with facts and stats of all your favourite players. This is the ultimate game to play with a friend and find out who will be awarded the Top Trump and who the champion of champions of the Rugby World is!
RRP £6
Available on Amazon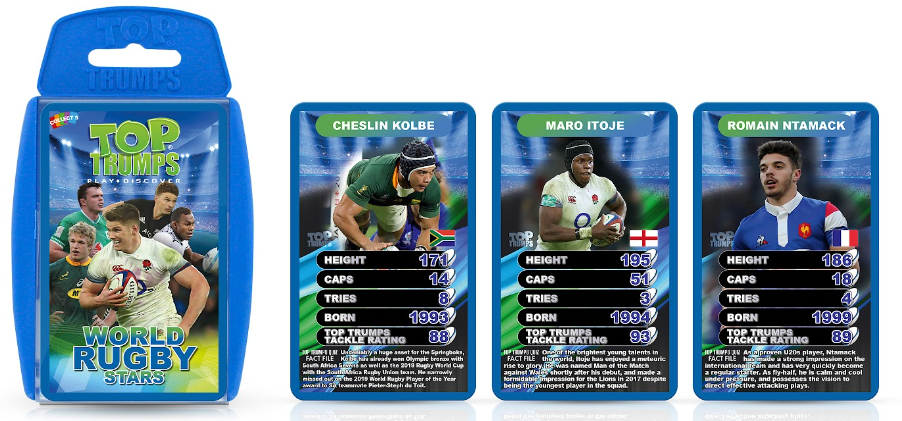 World Cricket Stars Top Trumps
Discover who the star of world cricket is in this Top Trumps card game featuring legendary players from across the cricketing nations! Play World Cricket Stars Top Trumps, the educational card game and see if Virat Kohli or Chris Gayle has the most catches, or if Mitchell Starc or Shakib Al Hasan has taken the most wickets. Whoever your favourite player is, World Cricket Stars Top Trumps is the game for you! Howzat?!
RRP £6
Available on Amazon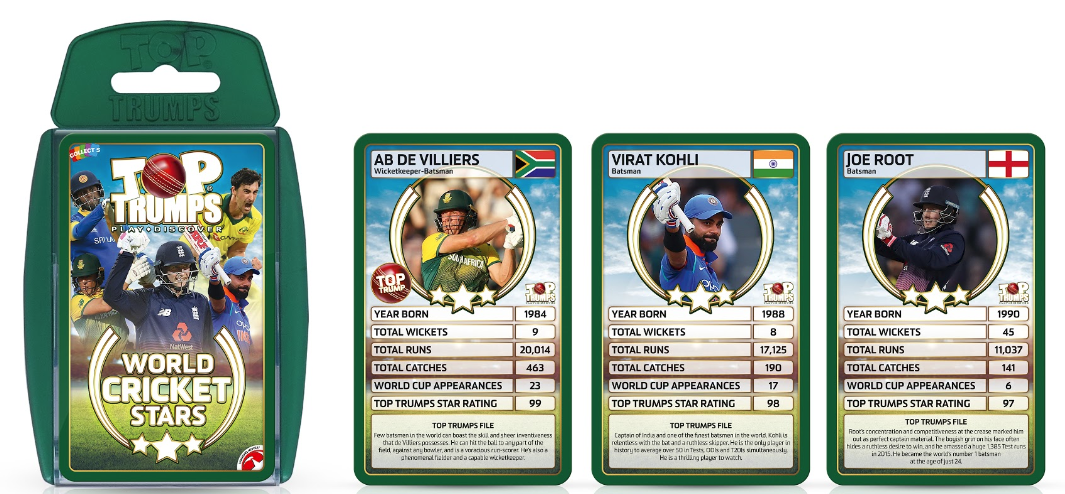 Grand Prix Heroes Top Trumps
This Top Trumps pack features some of the greatest legends that helped make Formula One the pinnacle of sophistication and technology. So how does Lewis Hamilton compare with living legend Niki Lauda? Who holds pole position at Ferrari? Grab yours and start your engine to find out!
RRP £6
Available on Amazon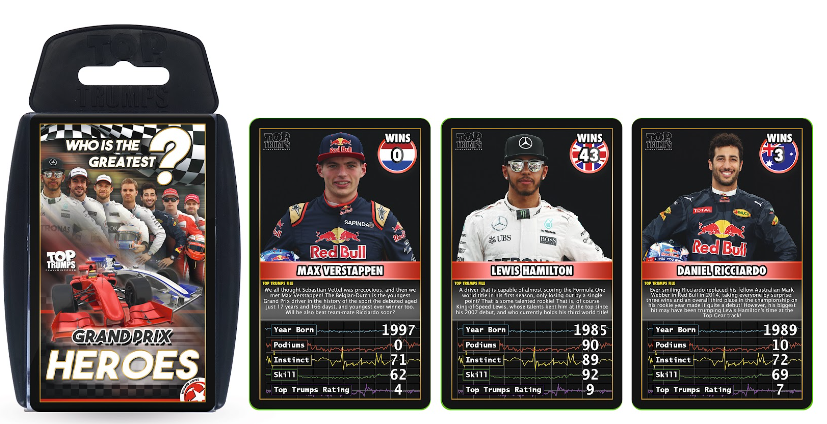 Sports Cars Top Trumps
Hear'em roar! -Learn about the biggest and fastest road legends of all time: from the stylish NSX and the brutal F40, to the glamorous Veyron and the groundbreaking Huayra, they are all in this Sports Cars edition of Top Trumps. Find out the top speed of the Pagani Huayra, engine size of LaFerrari and the year Bac Mono was launched.
RRP £6
Available on Amazon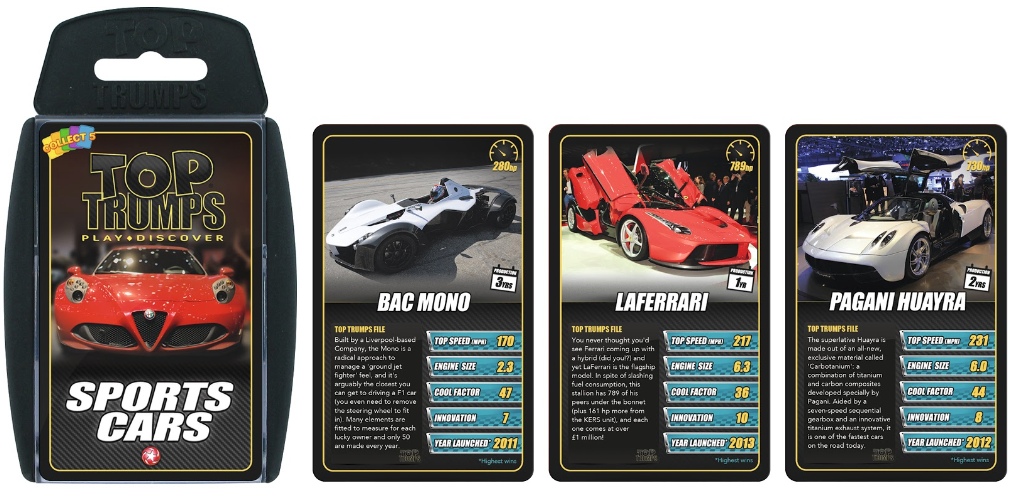 World of Sports Top Trumps Quiz
Test your knowledge on all things Sports with 500 questions on a variety of sports from cycling to football and rugby to swimming. Comes in a cool, plastic portable case that opens on both sides, ready for battle!
RRP £9.99
Available on Amazon