Diversified Gameplay, New Environments, and Debut of New Simulacrum Lyra, Coming to Hit Free-to-Play Open-World MMORPG along with Plenty of Holiday Rewards
December 14, 2022 – Los Angeles, CA – Today, publisher Level Infinite and developer Hotta Studio announced additional details for the 2.2 Mirafaleur Moonshade update launching on December 22 in Tower of Fantasy, the hit free to play, open-world MMORPG. Tower of Fantasy recently won the Best for Tablets award from Google Play, was nominated for Best Mobile Game at The Game Awards, and is available now for free at the official site, as well as on the App Store, Google Play and Steam. 
This 2.2 update, entitled Mirafleur Moonshade, unlocks other parts of Mirroria, giving players more access to the mysterious Cyberpunk city.  Wanderers can explore new areas such as Mirramoon Street, Treasured Garden, Aquaria Palace, Coolyland and Entertainment Center. A large number of interior scenes and interactive content is also now open. Players can go to the entertainment center to compete in bowling, organize a racing competition, or even enjoy music at Livehouse. Wanderers can also enjoy a roller coaster and ferris wheel, solve riddles and win rewards in the Lantern Riddles, along with much more.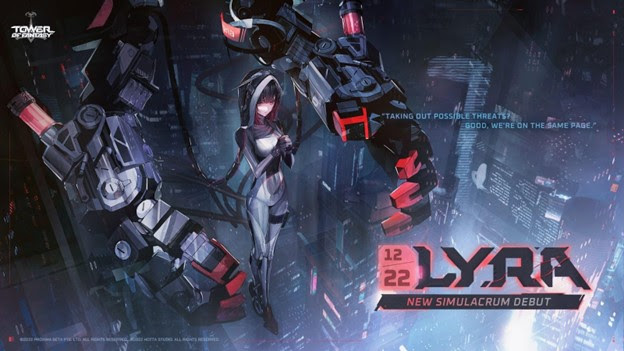 Next up is the latest simulacrum, Lyra, who is also being introduced in the Mirafleur Moonshade update. As the only successor to Ms. Maidelin, and the closest to her, Lyra is cold, mature and unnoticed. Lyra is armed with the Vesper, a physical weapon, which looks like a Cybernetic Arm with a massive damage boost and healing effect. 
View the New Trailer for the Simulacrum Lyra here – https://youtu.be/WRktlxJR45M
Throughout the holidays and into the new year, players can expect festive events and bountiful rewards like Dark Crystals, Red Nucleus, holiday-themed skin and more. New gameplay and challenges are also offered in the 2.2 update, including the Void Abyss beginning January 1. 
For the latest Tower of Fantasy press assets, please visit here.