On January 10, Flash Party, a platform fighting game along similar lines to Smash Bros and Brawlhalla, will become a shinier — altogether more official — version of itself; with its first major update, 'Stardust Warriors'
XD Games, Shanghai — December 16,  2022 | Flash Party's development team have been collecting player feedback since September, with a view of getting the game ready for its official launch as it evolves alongside a vibrant and engaged community of brawler fans. 
A number of those fans have been playtesting new features and modes in-game for some time now. This was all made possible when the devs added 'Lab Mode' to Flash Party, allowing the team to release new content in batches. This provided players with the opportunity to try out some of the content that made the update. Their feedback within the Lab has been instrumental in forming "Stardust Warriors" and there are some pivotal new inclusions: 
Heroes
Hero gameplay has received significant tweaking. To address issues such as plain hero traits — and a lack of combos — Flash Party now has some new hero enhancements, with all heroes now divided into one of four classes: All-rounder, Assaulter, Power House, and Impeder; each with its own defined fighting mechanism. Enhancing the playability of the heroes and offering more variety in all areas of combat.
Another relatively big change here is that the original hero levels will now all extend as high as level 10. While replacement skill stickers will be separated into normal stickers and colourful stickers. Normal stickers unlock slots according to the level, providing heroes with different ability bonuses — such as combo damage increase, movement speed increase, shield damage increase, etc.
When a hero reaches levels 7 and 10, colourful sticker slots will be unlocked. They can give heroes different passive skills. Currently, each hero has 4 colourful stickers to combine.
For example, Macalon's Earthshaker will create a mighty stomp and cover the entire surface area; impacting all opponents on the ground. While Macalon's BBQ Feast, leaves a ball of flames when hitting the ground — leaving a fire elemental burning effect on opponents. With these two stickers, you can essentially complete a combined attack that will knock your opponent down in the flames and have them take continuous damage.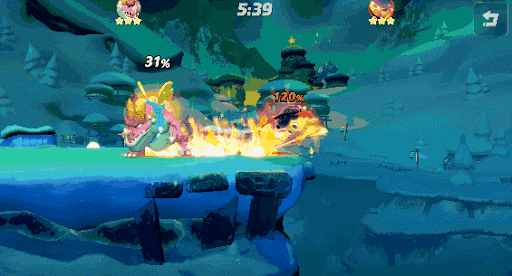 Stardust Warriors focuses on the innovation of heroes and combat, encouraging players to develop new combat styles according to their chosen hero. Even the same heroes can now create a different battle dynamic.
Gameplay
Flash Party's Stardust Warriors update also digs down into gameplay, especially in terms of new modes. Even though final details of the Alter Verse Challenge mode — which focuses on PVE racing and tower climbing challenges — have not yet been announced, its Party Royale mode has been revealed. It allows up to 10 players to compete on a larger map battle-royale style. Competing on the same stage, players will face a map that introduces environmental hazards that can have devastating consequences for fighters: springboards, stealth bushes and randomly dropped treasure boxes. Players will need to work hard to survive in the gradually shrinking safe zone. Last player standing wins.
The in-game store will also usher in its second phase of updates, with the hero store being launched alongside a new currency "Hero Coin". In the new version, players can purchase heroes directly in the store through "Lucky Coin", or exchange heroes for Hero Coins obtained through Star Pass, Party Pass, and daily events.
With one month before the official launch of Flash Party on Steam and Google Play and the Stardust Warriors update, players can click the links below to wishlist/pre-reg.