Digital signage software is arguably the future of advertising, and it is easy to see why. Unlike traditional banners, posters, and even websites, digital signage offers a fluid, ever-changing form of advertising that allows you to interact directly with your customers and adapt rapidly to changes in trends, seasons, and preferences.
What Is Digital Signage?
In the simplest terms, digital signage is any form of screen, such as LED, LCD, or projection screens, which display any form of content for any reason. This idea may be seen to be a wide definition, but it is this broadness which makes digital signage suitable for every type of business, no matter the niche or size. Hence to get right digital signage software solution for your business contact John from Softwaremole today.

Perhaps you own a restaurant and want to be able to present your customers with the menus in real time, switching between options according to the season, time of day, or day of the week with options to show specials as they are available. You can always buy one of the best projectors in the market for this work and check it out on ReviewsCon website.
Retail stores may use digital signage to highlight the latest trends to their customers, offering ever-changing suggestions according to changes in fashion trends and stock availability. This function can be used in conjunction with a smartphone app to help customers receive a personalized and tailored experience, helping them to feel valued.
No matter your industry, digital signage is an excellent addition to your marketing campaign. It can also be integrated with features such as social media and apps to create a cross-platform advertising solution which impacts every part of a customer's day.

Cloud-based or On-site?
There are two main forms of digital signage solutions: cloud-based and on-site. Both have their advantages and disadvantages, depending on your needs.
On-site solutions, as the name suggests, are hosted on an on-site server which is responsible for sending information to screens. The onsite team maintains this server, and so an expert team must be available.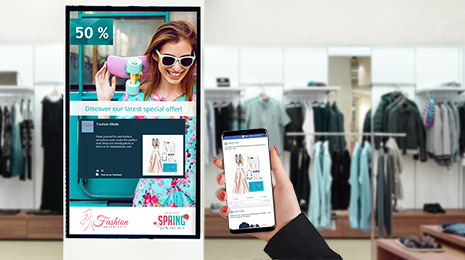 This type of signage tends to require a larger upfront payment but has few ongoing expenses.
Cloud-based digital signage software options use web-based software hosted by an external server to carry the relevant information and messages to your screen. This server can be managed via the internet, and a third-party is responsible for all aspects of maintenance and monitoring. This option eliminates the need for an on-site IT and web team. 
As well as reducing staffing needs, a cloud-based solution also helps you control content from one central location, no matter where the property is located. This choice helps you to manage several sites from one easy place. Thus, you should buy a small business server for start-ups. 

Summing It Up: Is Cloud-Based Digital Signage Right For Your Business?
If you're looking for a modern and engaging way to reach your target market, but don't have much extra revenue for upfront funding, cloud-based digital signage might be right for you. If, however, upfront costs aren't a concern and you have IT staff on-hand, an on-site solution carries lower on-going costs.