Ideal for small hands to hold the ION8 500ml and 350ml Leakproof Water Bottle fits perfectly into your children's school lunch box or backpack. Say goodbye to soggy sandwiches at lunchtime or a waterlogged homework book! Offering effortless hydration, most rigid water bottles are painfully slow to drink from, meanwhile soft bottles that can be squeezed, leak. But with ION8 your ensured a vented, smooth liquid flow at just the touch of a button. The smart flip top springs open with a single push and the added lid lock follows clicking reassuringly into place for added staying power, putting a stop to all those accidental leakages.
What's more there's no annoying screw tops or dirty spout to deal with, the hard shell keeps your bottle clean, fresh and hygienic, just effortless hydration when you need it most. Perfect for those busy kids who are constantly on the go with a schedule full of kids clubs, sporting activities, the list goes on.
Perfect for children aged 3-9 years, with a soft-touch, scratch proof 'frosted' textured grip, the ION8 350ml Leakproof Water Bottle is ideal for rough and tumble of child's play, the perfect size, smallest enough for any lunch box or bag. Each bottle offers a number of fun and vibrant prints to cover its exterior. Such as the enchanting unicorn print or the cheeky monkey illustration. Made from BPA free, phthalate free, non-toxic TRITAN, this versatile drinks bottle is odour resistant, easy to hand wash and suitable for both hot or cold drinks. Meanwhile the handy carrying strap, ensures wherever you go so does the ION8, whether you hang it up when outdoors or carry it with just one finger.The ION8 350ml Leakproof Water Bottle (Unicorns, Llamas, Fruit, Ladybugs, Bees or Monkeys) is available to buy online for £10.99 – £11.99 from Leakproof.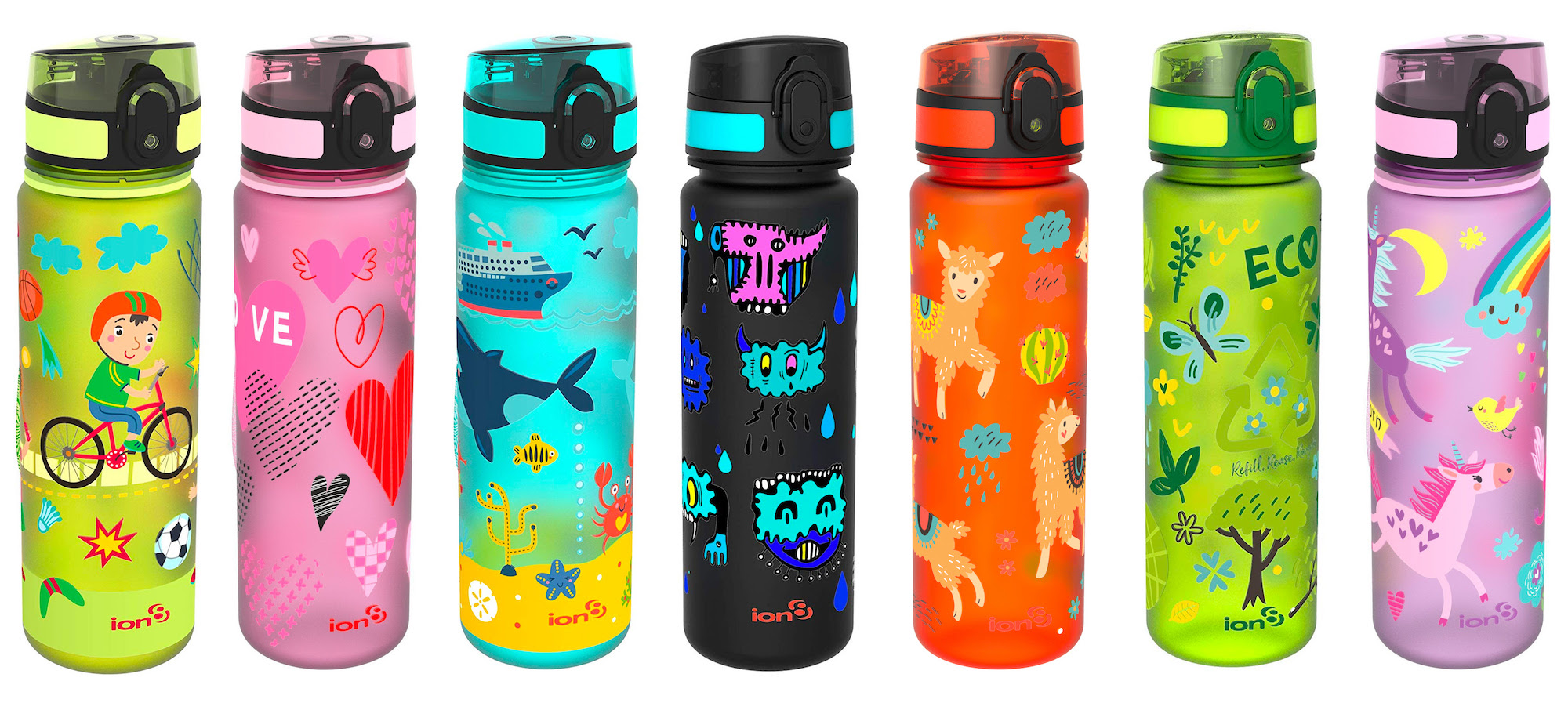 Offering the same level of detail and quality as the 350ml size with just more volume, each 500ml ION8 Leakproof Water Bottle offers a variety of playful and characterful prints to cover it's exterior. Such as life under the deep blue with the sea life print or the energetic sports illustration. The ION8 500ml Leakproof Water Bottle (HasWorld, Ecology, Llamas, Unicorns, Hearts, Sports or Sealife) is available to buy online for £11.99 – £12.99 from Leakproof.