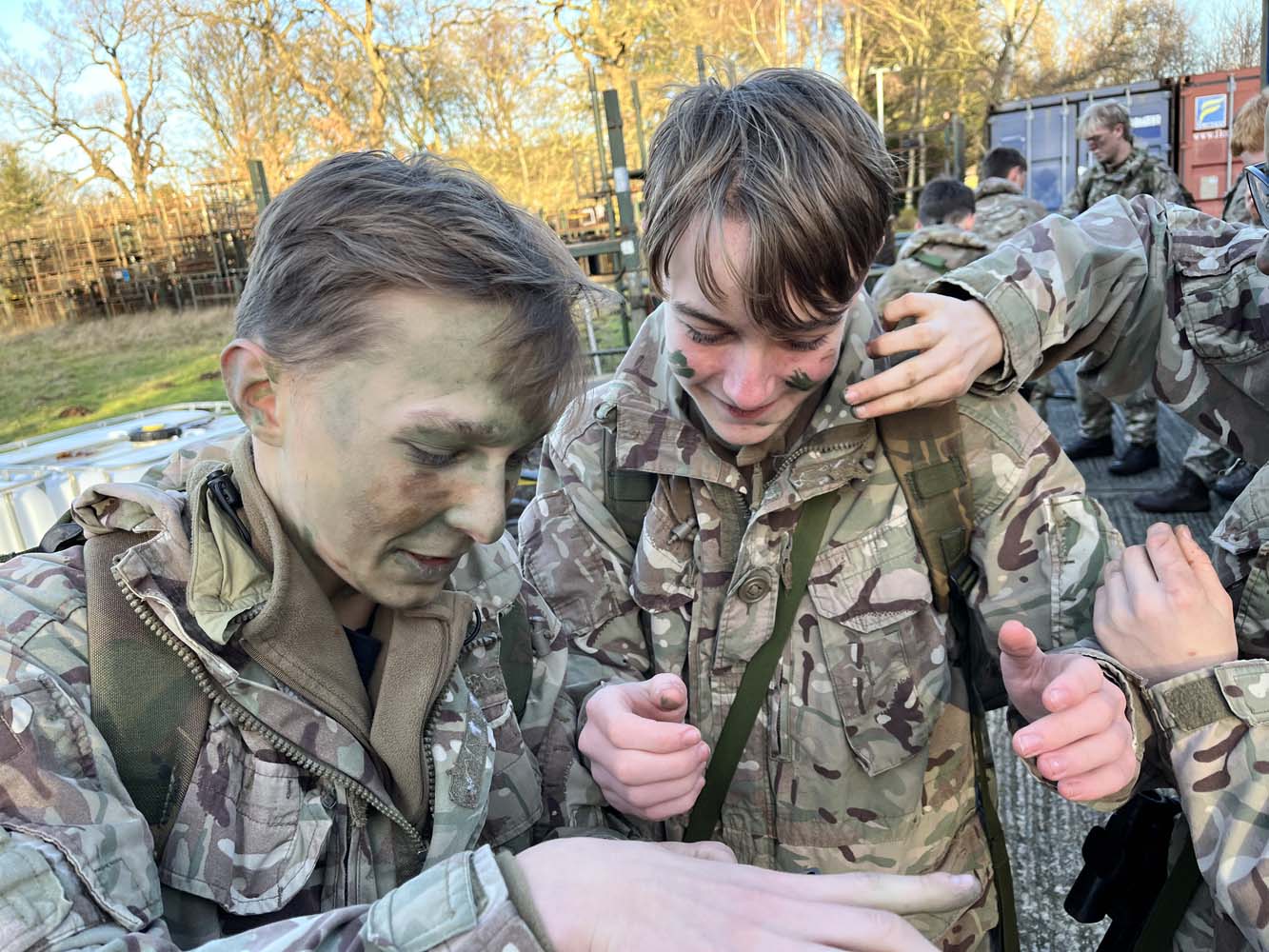 A four-day military work experience programme proved a real test of grit for students from Richmond School and Sixth Form College. Nine students across Years 10, 11 and 12 lived the life of new army recruits at Queen Elizabeth Barracks, at Strensall near York, starting with a daily wake-up call at 6am!
The students, aged between 15 and 17, wore uniforms throughout the week and were separated from some of life's little luxuries, such as their mobile phones. From army drills to bed making, being out in the field to marching, the group were introduced to the real demands of army life.
Charlie Wallace, in Year 11, said: "The Army Outreach residential provided me with a taste of the sort of environment that I could find myself working in. Over the course of the four days, we took part in a range of activities that allowed me to think outside the box and try things I haven't done before. I am a part of the army cadets at Catterick and signed up to the residential work experience visit which has solidified my decision to pursue a career in the army, hopefully as a Royal Engineer. I will be applying to the Army Foundation College in Harrogate after my GCSE studies at Richmond School and Sixth Form College."
Ellie Hughes, in Year 10, added: "At first, I didn't really know what to expect as I hadn't been to anything like cadets before so I was a little bit nervous. All of the staff there were so welcoming and supportive, especially on the assault course where I found it a major challenge to be able to jump over a 6-foot wall! After many attempts and failing, I felt deflated but with the support and encouragement of my peers, my teacher and the army crew I managed to get over the wall."
"I learnt that there were so many different career opportunities that I could aspire to do within the army, discovering the different routes with soldiers and officers. Something that really grabbed my attention was the law and legal side of the army. I found out that I could join the army as an Armed Forces Lawyer, meaning I could take and offer legal services to different Army members and their families."
They group learnt about camouflage, concealment and detaining an enemy, as well as how to advance and retreat on the enemy. They were taught the theory of how to search a vehicle and command tasks in the classroom and they developed this knowledge practically out in the open. A real highlight for the group was the assault course where they had to climb over walls, swing on ropes, climb across bars and jump into deep, cold muddy water as they were put through their paces.
Mr Birdsall, Service Children's Advocate, said: "The students were keen to learn and it is fantastic that some are hoping to pursue a career in the military and are considering roles such as a medic, artillery and a legal officer. The residential trip enabled students to learn what the army is all about as well as giving them real experience, developing discipline and teamwork skills.
"The group were a delight to take and they fully immersed themselves in everything that they were asked to do. They were joined by students from East Rising College and it was lovely to see the students make friends and to collaborate and act as one whole group."