The Kia EV9 undergoes winter testing in Arjeplog, Sweden
Kia´s latest e-SUV proves it has what it takes to perform in extreme ice conditions
EV Route Planner and battery conditioning ensures optimal charging
Traction Control provides excellent handling on snow and ice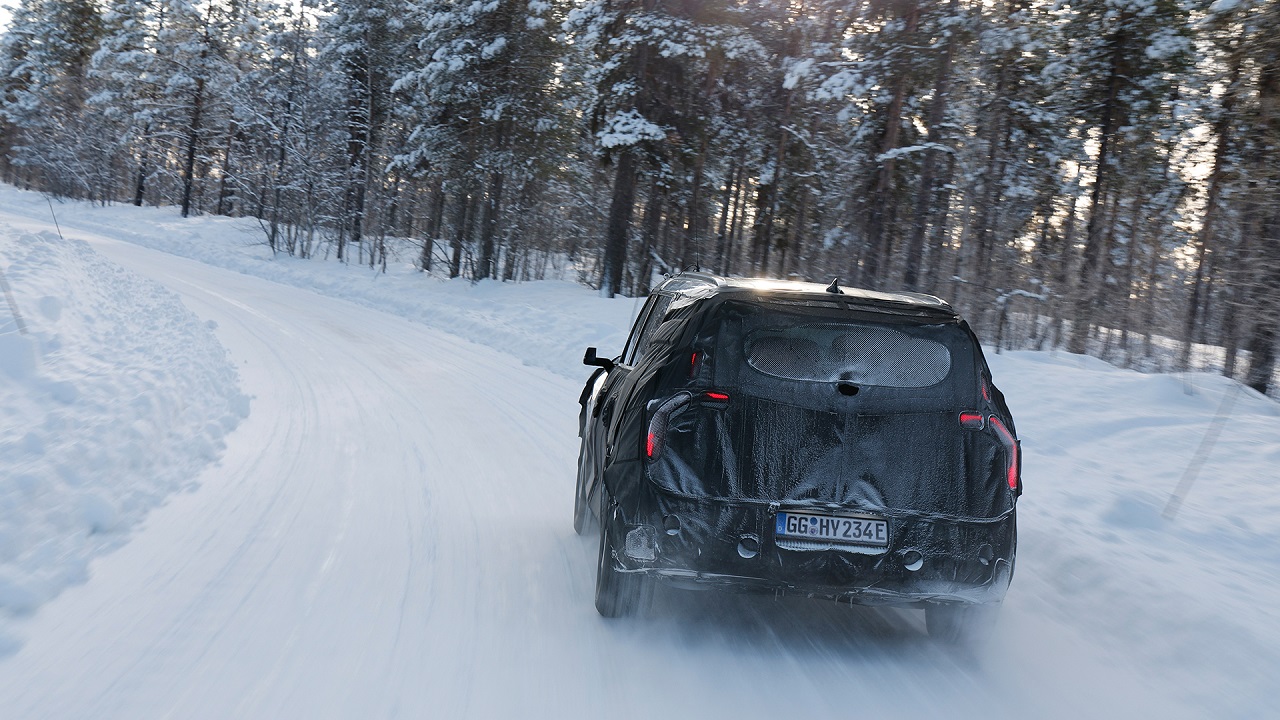 The Kia EV9 is the perfect ride even in extreme cold-weather conditions. During its winter testing in Arjeplog, Sweden, under bitterly sub-zero temperature conditions near the polar circle, Kia engineers tested the vehicle to ensure optimal battery and charging performance, despite the extreme low temperature. In addition, they optimised the Traction Control System for the best possible performance when driving on snow and ice.
"It's a myth that EVs aren't good to drive in the snow," says Gunther Frank, General Manager Development Project Operations at Hyundai Motor Europe Technical Center (HMETC). "With the Kia EV9, we've proved that we have the technology to overcome charging speed challenges in cold-weather conditions, as well as the ride and handling improvements to make an EV safe and even fun to drive in the snow."
Battery conditioning and EV Route Planner optimise charging performance
Under optimal conditions, the Kia EV9 has an all-electric target driving range of over 541 km, according to the World harmonised Light vehicle Testing Procedure (WLTP). With 800-volt ultra-fast charging, it can gain up to 239km in range after just 15 minutes of charging. As with all EVs, however, driving in extreme heat or extreme cold can result in slower charging and shorter driving ranges.
"Like the human body, a battery also has a certain temperature range where it feels most comfortable," says Frank. "Within this range, it can provide its best performance while driving and charging. Outside that range, dedicated, state-of-the-art battery thermal technologies have been implemented to manage these extreme conditions."
One of these features is battery conditioning, which was first introduced with the Kia EV6. Battery conditioning essentially means pre-heating the battery before charging. By achieving optimal battery temperature before charging begins, the EV9 can continue to achieve ultra-fast charging, despite the cold.
Another feature, EV Route Planner, introduced for the first time with EV9, offers customers even more convenience by automatically programming charging points into the route when they are needed. The system analyses real-time vehicle data, as well as the route that has been entered into the AVN system, to add charging points when needed. When the estimated all-electric driving range is insufficient to reach the destination, the AVN displays a pop-up suggesting possible charging stations and asking the customer if they would like to add it to the route. This means customers don't need to spend time planning out their routes based on the availability of charging stations – the EV9 does it for them by showing them when, where, and for how long to charge.
EV Route Planner and battery conditioning work together to pre-heat the battery in cold conditions when a high-speed charging point is coming up. For customers, this means more time at the wheel and less time spent charging – or thinking about charging. "Our target is to provide the best possible driving and charging experience to our customers," said Frank. "We want them to be able to drive longer distances in the shortest possible time and in the most relaxed way to make the step from ICE to EV cars as easy and smooth as possible."
EV-specific characteristics for a safe and stable ride
The low centre of gravity and long wheelbase of the Kia EV9 help stabilise the vehicle while driving – specifically, by reducing roll on corners. To cope with the additional weight and increased acceleration associated with EVs, the engineers expanded the front brake discs. Additionally, the Kia EV9's regenerative braking system has been improved by applying a second-generation Integrated Electric Booster, or IEB, to reduce the overall weight and improve energy efficiency.
The EV9's chassis has been optimised, and the suspension has been tuned, to ensure excellent handling capabilities on snow and ice. The engineers aimed to find the right mix between safe and smooth handling and responsiveness and being fun to drive. The result is an overall more balanced driving experience focused on delivering maximum passenger comfort, regardless of driving conditions.
All-wheel drive for maximum handling on snow
The Kia EV9 was equipped by HMETC with dedicated winter tires for its testing in Arjeplog, Sweden. These tires provide maximum stability on the snow tracks. The Kia EV9 will come with the option of 19- or 20-inch lightweight aluminium wheels, with the GT line version is available with 21-inch wheels as well.
Another feature to improve handling on snow and ice is all-wheel drive. The Kia EV9 with all-wheel drive features both front and rear electric motors. The RWD model utilises a 150 kW electric motor, and the AWD features a total power output of 283 kW. This essentially doubles the system power when AWD is activated.
Traction Control System with dedicated Snow Mode
The Kia EV9's Traction Control System, or TCS, is meant to improve performance when driving in challenging terrain. Drivers can choose from Mud, Sand, and Snow modes by using the Terrain Mode Select button on the steering wheel to optimise driving performance or different conditions. The system adjusts motor torque output and distribution as well as the chassis systems and other stability control characteristics to ensure a safe performance, even in low-grip conditions. This means the all-new Kia EV9 can drive off-road.
Snow mode is optimised to maintain stability and forward momentum in slippery conditions. When Snow mode is activated, the traction control system limits torque output from the motor and controls them for optimum tire grip on all four wheels to maintain forward momentum in slippery conditions. It also applies the best levels of braking control to optimise traction. All these features work together to deliver customers a safe and stable experience – while still being fun to drive.
About the Kia EV9
The Kia EV9 brings fresh thinking, design, and technology to the e-SUV sector. With its bold SUV looks and its emission-free driving, the model represents a new era of sustainable adventure. The flagship electric SUV comes in seven-seater and six-seater configurations which were designed to meet the needs of millennial families. With a target driving range of over 541km, an 800-volt ultra-fast charging system, and the option of all-wheel drive, this safe and stable family SUV is ready to take on any driving situation.
The Kia EV9 both sets new standards in its segment and completely redefines it. With an authentic and bold SUV character, modern technology, and maximum comfort and convenience, it makes it easier than ever for people to embrace the change and make the switch to electromobility. The vehicle previews a sustainable mobility future and represents a major progression in Kia's transformation to a sustainable mobility solutions provider.
Kia plans to build an EV line-up of 15 models by 2027, nine of which will be coming to the UK, and to grow its EV annual sales target to 1.6 million units by 2030.