ART lovers – and fans of Shaun the Sheep – can try and bag a baa-rgain when the sculptures that have made up this summer's Tyneside art trail go under the hammer.
Thousands of people of all ages have visited the large and small individually decorated sculptures that make up Shaun the Sheep on the Tyne – a free public art trail in aid of St Oswald's Hospice.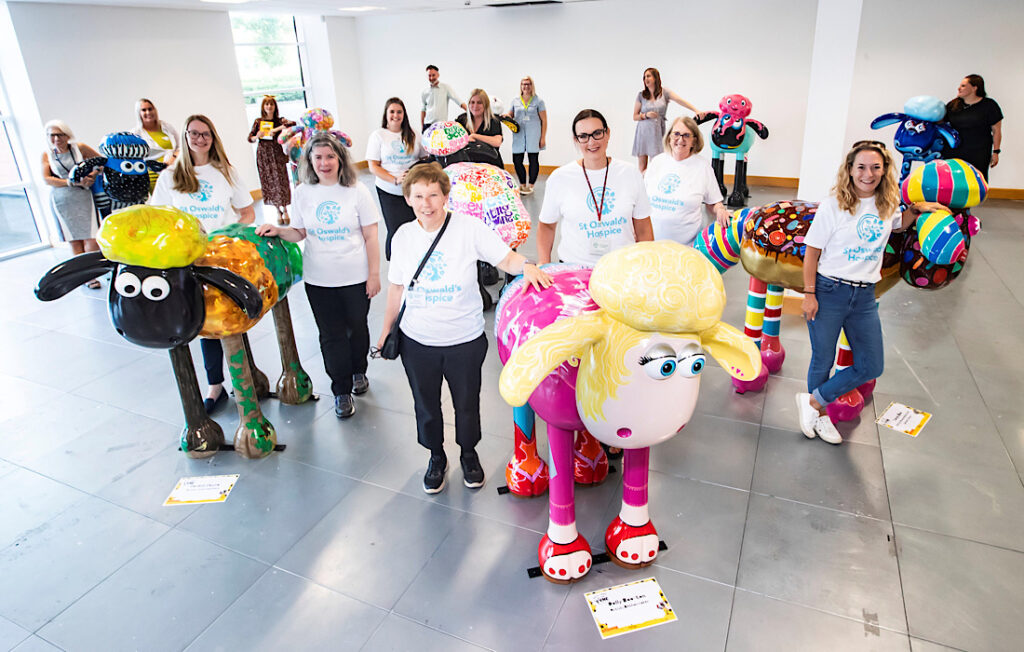 And on Tuesday 10 October, 37 of the large Shauns and three smaller 'surprise' lots will go to the highest bidder at a live auction at Newcastle Civic Centre.
Bidding for all sculptures starts at £1000 – and bidding is now open for anyone wanting to register online, view the full sale catalogue and place their bids in advance.
Highlights in the auction include lot 13 – Sheep Ahoy! by North East artist Joanne Wishart, whose Elephish sculpture was the top seller in the auction that brought to a close the Elmer's Great North Parade trail in 2019, selling for a massive £10,000.
Lot 23 – Ewe-Reka, by Lois Cordelia, celebrates Newcastle's Moseley Street being the first street in the world to be lit by incandescent lightbulbs, in 1879 and the city's stunning contemporary lighting.
Meanwhile, lot 29 – Art is Mischief, by Anonymous, has been top of the 'most voted for' leaderboard in the Shaun app throughout the summer, so is likely to prove popular at auction.
And lot 35 – 'Wor Shaun, by Wor Flags – which celebrates Newcastle United Football Club and the power of football to bring local communities together – is expected to appeal to footie fans the world over.
The trail will close on 23 September, slightly earlier than advertised, to allow the artists a few extra days to refurbish the sculptures ahead of the farewell weekend and auction.
Jane Hogan, Head of Fundraising at St Oswald's Hospice, said: "We are delighted to announce bidding is now open, for anyone keen to own a Shaun the Sheep of their own.
"Why not amaze your dinner party guests with your stylish new housemate or wow colleagues and clients with your 'sheepish' office pet. This is your chance to buy a ewe-nique piece of art, while supporting St Oswald's Hospice."
All the money raised at the auction, which will once again be run by auctioneer Fred Wyrley-Birch from Anderson & Garland, will support the work of St Oswald's Hospice.
Elmer's Great North Parade raised £182,000 and Great North Snowdogs raised £260,000 and Fred said: "We are delighted to be able to support St Oswald's
Hospice again with the spectacular Shaun on the Tyne auction to mark the climax of this wonderful trail.
"We are honoured to provide our skills and experience to this final event of the trail at Newcastle Civic Centre, overseeing the final goodbye to the flock, helping each one to secure a new and loving home."
Charlie Langhorne, Managing Director and Co-founder of Wild in Art said: "Now it's time for us to generate a legacy for St Oswald's Hospice as we find forever homes for these stunning pieces of art.
"We know from previous trails that people fall in love with a sculpture they have walked past every day, or businesses often spot a design that resonates with their customers or clients. The reasons are endless but what they all have in common is that St Oswald's will benefit from the funds raised. Baa-rilliant!"
Doors open for the auction on 10 October at 6pm and bidding commences at 7pm. Tickets cost £16.50 including booking fees and can be bought at www.shaunonthetyne.co.uk/auction.
Shaun the Sheep on the Tyne is being held in conjunction with creative producers Wild in Art, along with Shaun the Sheep creators Aardman and headline trail sponsor Newcastle City Council.