Today, Level Infinite announced that GODDESS OF VICTORY: NIKKE, an immersive sci-fI RPG shooter with adorable NIKKEs, a new chapter, Light of Hero, and a new SSR-ranked character, Laplace, has been added to the game in a latest update. Download the game on the iOS App Store and Google Play today and the Light of Hero update will go live after the update.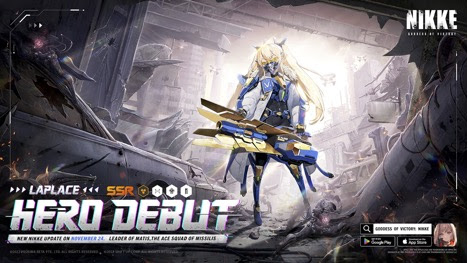 Watch the trailer: https://youtu.be/JCjuYNTXiok
Laplace is a Nikke who is part of Missilis' elite squad, Matis, which utilizes the most cutting-edge technology the company has to offer. Being the first Nikke produced for inclusion in Matis, she was assigned to be the squad leader. Laplace knows full well the importance of the role she plays, and firmly believes she is a hero of the highest caliber. In her eyes, a hero such as herself must take it upon themselves to reclaim the surface along with her fellow members of Matis. Laplace believes that sacrificing oneself for the greater good of the world is the greatest form of heroism. This mindset stems from the differences she sees between humans and Nikkes. However her intensity can occasionally cause others to mistake her zeal for megalomania and can give the false impression that she holds delusions of grandeur such as being the Chosen One. When all is said and done, Laplace's kindness shines through in her heroic conduct on the battlefield. She is a true hero in every sense of the word.
GODDESS OF VICTORY: NIKKE is an immersive sci-fI RPG shooter with adorable NIKKE soldiers, where players recruit, command and collect NIKKEs with unique combat specialties to create the ultimate team! Experience next-level shooting action with simple yet intuitive controls while enjoying dynamic battle effects. This intense action is coupled with a moving story line told through anime cut scenes that follows the fate of the NIKKEs and will develop over time as more content is added. Developed by SHIFT UP (creator of Stellar Blade coming to PlayStation 5) the game is available globally for iOS and Android mobile devices. 
Since launch, NIKKE has been a top performer in mobile stores around the globe. Within the first week, it was downloaded 10 million times, while also reaching the top spot in the App Store and Google Play in several regions, including North America, Korea and Japan. Ajurika, a well-known Japanese composer (Idolmaster, Sumire Uesaka, Aimi Numakura) has created new music for this update. 
Official Website: https://nikke-en.com
Official Twitter: https://twitter.com/NIKKE_en
Official YouTube: https://www.youtube.com/c/nikkeen
Discord: discord.gg/nikke-en