THE Great British weather is no longer a headache for engineers working on the country's transition to net zero, thanks to a mum-of-five's invention.
Poor conditions mean that thousands of outdoor jobs are cancelled or rescheduled every year – but a remarkable new product is helping workers to save time and money and get it done safely in any weather.
DryCab, an inflatable work shelter, can be set up in two minutes to provide a safe, stable environment for engineers, electricians and installers to work outside.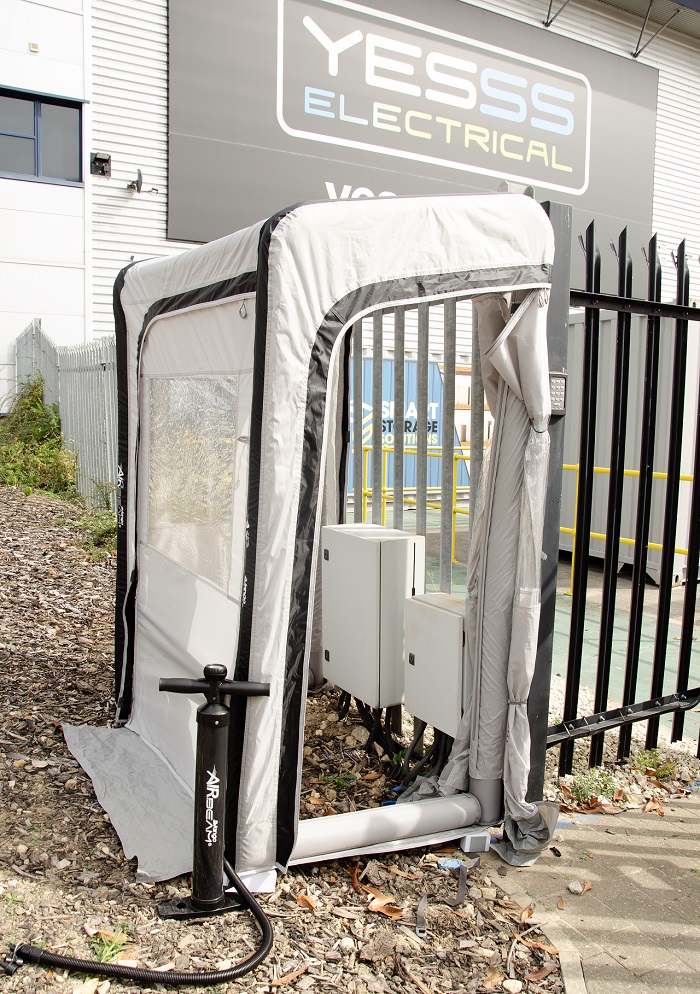 The concept was created by Hull midwife Helen Foster, who decided to hang up her scrubs after working for the NHS for 17 years and design a work shelter for her husband Stephen, a dual fuel smart meter engineer. 
Her simple idea is already receiving glowing reviews from sole traders, SMEs and major international companies. 
Inclement conditions pose major difficulties for engineers, electricians and installers working outside on electrical installations such as EV charging points, heat pumps, smart meters and communications links.
Many tradespeople say they can't afford to pause jobs for bad weather, with rain delays and cancellations costing businesses millions of pounds a year, and slowing the UK's shift to green energy. 
But DryCab's simple, sturdy solution protects electrical equipment from the elements and allows workers to install, repair and maintain safely, and on schedule.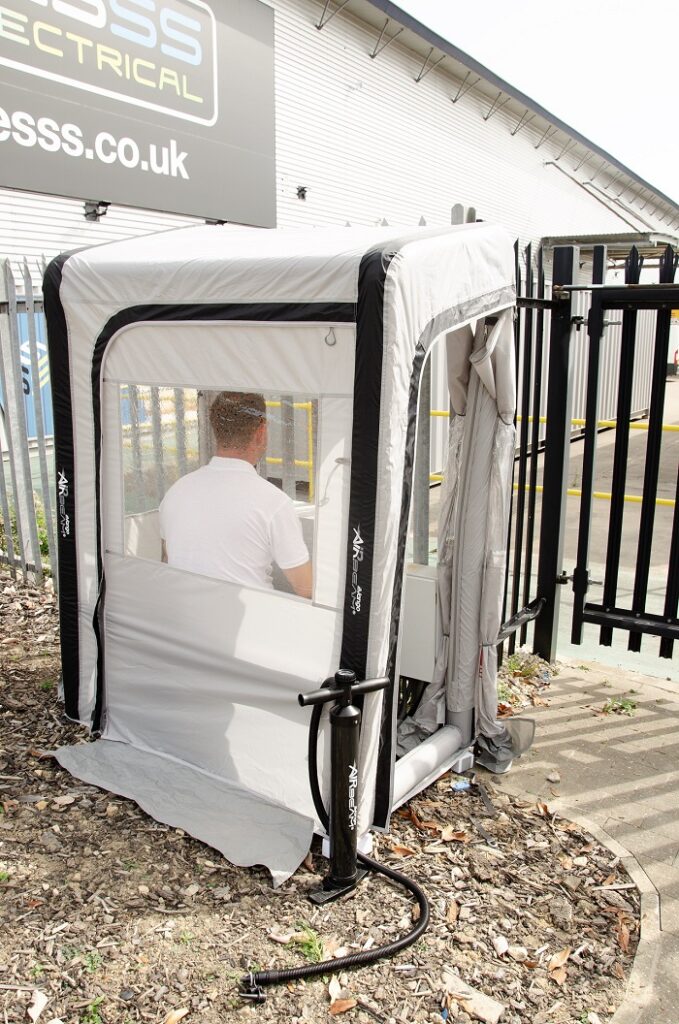 Being able to work in all conditions is also helping users to boost productivity, improve working conditions for team members and reduce the regulatory fines sometimes incurred by delays. 

DryCab's creators were inspired by recent innovations in inflatable tent technology and they teamed up with Vango, the UK's most successful tent manufacturer, to spearhead production. 

It's now manufactured with the same AirBeam® technology found in many of Vango's popular camping products.

The first Airbeam® external work shelter on the market, DryCab can be inflated using a hand pump in just two minutes and packs down in a similar time.

After perfecting the design, Helen and Stephen approached nationwide wholesalers YESSS Electrical, headquartered in West Yorkshire, who were impressed by their story and the product itself.

YESSS Electrical own the copyright to DryCab and are now selling it online and in all of their 96 stores, as well as through other distributors across the UK and Ireland.

Helen said: "Stephen would constantly complain to me about his tools getting wet and having to abort jobs, leaving customers in the lurch. After successfully pitching the idea of DryCab to Vango, we had a prototype! Time after time we approached investors, but with Covid hitting everyone hard we kept hitting brick walls.

"Not giving up after years of unpaid hard work where many would have, we finally got our break.

"YESSS Electrical recognised our potential, and always striving to lead the way in renewable energy, they saw a great way to help speed up transition to net zero. 

"DryCab will help energy suppliers meet government deadlines for the rollout of smart meter installations, plus EV charging point installations and much more."

YESSS Electrical category manager Barry Brown said: "It's a fantastic solution to stop you having to reschedule outdoor jobs due to the Great British weather, and for engineers and installers in particular.

"We love the solution it provides for the outside worker, and how much money it can save larger firms such as energy suppliers on rescheduling jobs.

"The range can also grow to focus on other sectors such as data cabinet installers."

Not only is DryCab helping to speed up the transition to net zero, the aim is to manufacture it using recycled single-use plastic as soon as possible as part of Vango's sustainable Earth range of tents and accessories.

Waterproof, fire retardant and non-conductive, DryCab offers outdoor workers full UV protection and is approved by trade unions.  

It's also supported by the Vango services team, which means that users have access to a quick and efficient repair service, should it be needed.YESSS Electrical branches and online at yesss.co.uk.

DryCab is now in stock at all