For a Father's Day packed with family friendly retro fun, make Beaulieu's Custom and American Show your destination on Sunday 18th June, and be amazed by impressive cars and bikes as they fill the grounds of the National Motor Museum.
Held in association with the Solent Renegades club, the vibrant show will return for 2023 with hundreds of cool American motors, colourful custom cars and bikes, live music and great entertainment throughout the day. If you love your motors to be bigger, brighter, louder or more wacky than the norm, then don't miss this amazing line-up!
Celebrating the truly individual creations of the motoring world, a colourful line-up of customised cars, American motors and awesome motorbikes and trikes will fill the showground. From wildly modified custom classics, to huge American sedans and powerful muscle cars, along with all manner of amazing two- and three-wheeled machines, get set to have your imagination fired up by the wide variety of cool vehicles on show.
Legendary custom car builder and Custom and American Show ambassador Andy Saunders will be returning to the show, along with his latest creation, Deja. Four years since he showed fans his derelict Riley at the show, Andy will be displaying the transformed car, widely regarded as one of his greatest car builds. This unique creation looks like it has come straight from a glamorous 1930s motor show!
Solent Renegades will be bringing together a colourful display of its members' cars, with the chance to chat to club members about their impressive American machines. While Classic American magazine will be returning to the show to hold one of the heats for its Car of the Year competition, with unmodified American cars of any era invited to compete. Which stunning car will be selected to go through to the next round of the competition?
Awards will be given to some of the most remarkable vehicles of the show, with the chance to vote for your favourite in the People's Best in Show. The Solent Renegades' Choice will be awarded to the vehicle that catches the eye of the clubs' members, while The Andy Saunders Award will be presented by the Show Ambassador as he selects the most creative custom on display.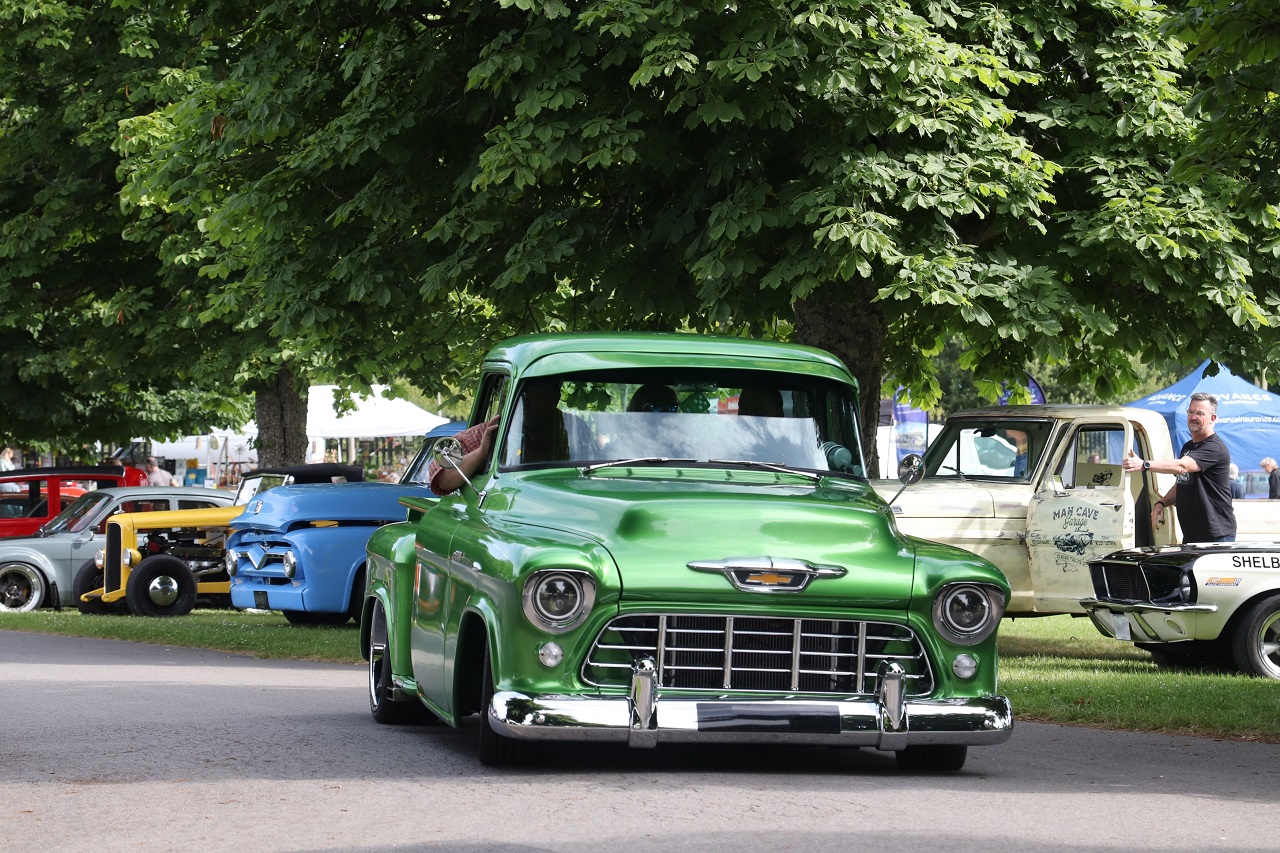 Do you own a customised or American vehicle just like one used in a movie or TV show? Then get in touch with the Beaulieu Events team at events@beaulieu.co.uk to get involved in the show with your motor, with a special display of film and TV cars, new for 2023. Already confirmed as attending are life-sized replicas of the much-loved Lightning McQueen and Tow Mater characters from Pixar's Cars movies, and a replica of the iconic A-Team van, with more to be announced.
Get your feet tapping to great live entertainment, as the Honky Tonk Angels and Rooster both take to the stage to perform rousing tunes. Why not enter your dad into the special Father's Day show prize draw, with great Beaulieu prizes to be won (find out on the day of the show how to take part). While face painting will be free of charge to show-goers throughout the day – which design will your little one choose?
Participants can book their tickets in advance at www.beaulieu.co.uk/events/custom-and-american-show, which also include entrance to the rest of the Beaulieu attraction. Entry to the showground for participants, driving in with their qualifying vehicle, is from 8.30am, with the main event opening at 10am.
All other visitors should purchase normal visitor admission tickets, which are available to book at www.beaulieu.co.uk/plan-your-visit.
The Custom and American Show is just one of the exciting motoring events planned at Beaulieu for 2023. For Beaulieu's full 2023 event calendar, visit www.beaulieu.co.uk/events. Visitor and participant tickets include entrance to all that Beaulieu has to offer, including the National Motor Museum, Little Beaulieu, World of Top Gear, On Screen Cars, the ancestral Montagu home Palace House, Secret Army Exhibition, 13th century Beaulieu Abbey and the stunning grounds and gardens.