Silverstone, England 
David Lorenz, founder and CEO of Lunaz has been named one of The LDC Top 50 Most Ambitious Business Leaders for 2023.
Created by trusted investment partner LDC – part of Lloyds Banking Group, and supported by The Times, The LDC Top 50 champions the business leaders who are pushing for growth and building successful medium-sized businesses. 
This year's nominations were of an exceptionally high calibre and the competition was fierce, showcasing the drive and determination that unites business leaders across the UK.
The leaders featured in The LDC Top 50 are growing their businesses at home and overseas, making a positive contribution to society and driving progress against their sustainability goals. They hail from every corner of the UK and span every sector of the economy. Together, they employ more than 6,700 people and turn over more than £1.2bn.
Founded in 2018, Lunaz is one of the UK's fastest-growing clean-technology businesses. Its mission is to upcycle existing vehicles of all types by replacing the internal combustion engine with a fully electric, emission-free powertrain developed and manufactured in-house. And, at the same time, restoring them to as-new condition and adding the latest technology for a fundamentally better and safer driving experience.
The company's principal commercial focus is on upcycling end-of-life industrial vehicles, such as refuse trucks, to bring the benefits of upcycling and clean-air technology to wider society as it transitions to net zero. As well as saving vast amounts of embedded carbon, the Lunaz upcycling process produces electric vehicles that are significantly cleaner and technologically better than the original vehicles they are based on.
In 2023, Lunaz secured a long-term order from Biffa, the UK's leading sustainable waste management operator, where it will up-cycle and electrify a significant proportion of the company's 600+ refuse truck fleet over an initial 7-year period. Lunaz has also received orders and letters of intent from a number of government authorities looking to replace their obsolescent diesel refuse trucks with Lunaz upcycled electric vehicles, as a means to both reduce their overall carbon footprint and maximise value for money for local taxpayers.
Lunaz initially proved its technology and upcycling approach by elevating British classic cars, including the Aston Martin DB6 and Rolls-Royce Phantom. This specialist work continues, with record sales in 2022; recent landmark projects include the Bentley Continental S2, the rarest classic car ever converted to electric power, and a fully open 1983 Range Rover 'Safari' as driven by James Bond in the movie Octopussy.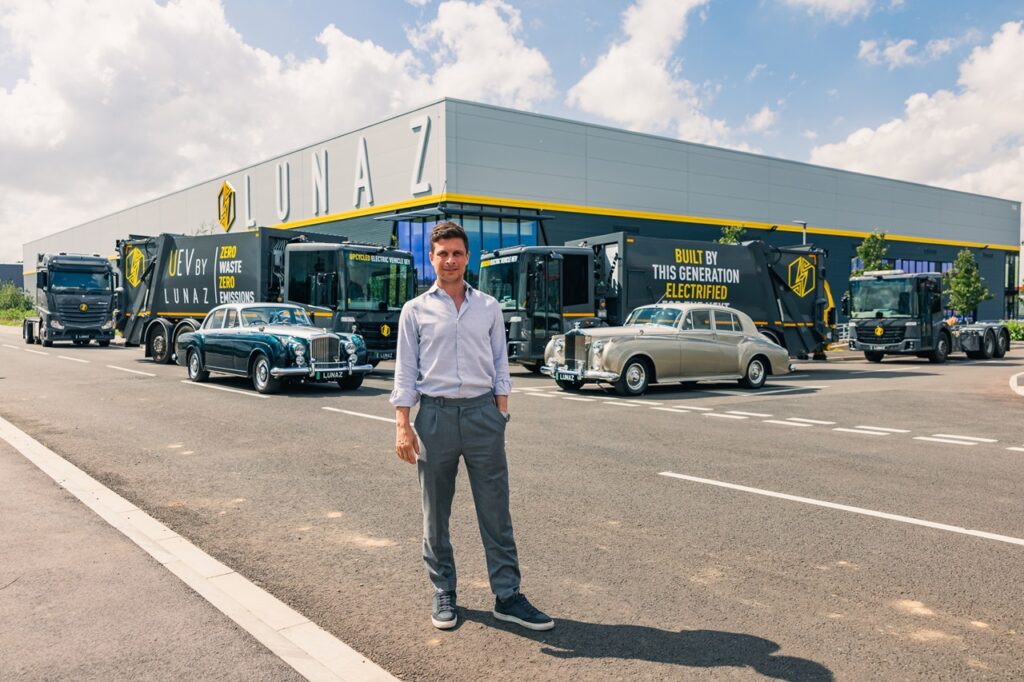 David Lorenz, Founder and CEO of Lunaz said: "I'm delighted to be part of this list, which includes some truly amazing, visionary people. My ambitions for Lunaz have always gone beyond the business itself. I firmly believe every vehicle has the potential to live at least two lives. Upcycling can help us plot a more sustainable path to a lower-carbon future, by breaking the environmentally ruinous 'replace-with-new' cycle that still holds back so much of the automotive industry.
"At Lunaz, we're demonstrating that, through technology, we can make existing, heavily polluting vehicles of all types genuinely sustainable while enhancing their functionality. We've solved the technical challenge of decarbonisation: our upcycled electric vehicles prove that electric power isn't a pipedream or 'the future'; it's practical and happening now. My overarching ambition is to foster a new mindset, based on repurposing not replacement, and to present climate action in terms of positive gains, not just reduction, utility, economy and sacrifice. With bold thinking, imagination, creativity and passion, supported by green investment, we can make hugely positive environmental changes."
John Garner, Managing Partner at LDC, added: "We started The LDC Top 50 six years ago to champion the remarkable success stories of medium-sized businesses, the unsung heroes of the British economy. Since then, we've received more than 3,000 nominations and celebrated more than 500 business leaders through the programme, surpassing all our expectations. Every leader in this year's cohort has a story as impressive as the next, and I'd like to congratulate them on their achievements so far. We can't wait to see where they go from here!"
You can find out more information on this year's LDC Top 50 Most Ambitious Business Leaders programme here: https://bit.ly/48TmMBd