Successful trials of autonomous buses on public roads in Scotland as part of the UK government- and industry-funded CAVForth project will be expanded
The £10.4 million second phase – CAVForth2 – will see the route over the Forth Road bridge between public transport hubs in Edinburgh and Fife extended to Dunfermline city centre – a total distance of nearly 20 miles
Consortium lead partner Fusion Processing Ltd's next-generation CAVStar® Automated Driving System is designed to safely negotiate the complex traffic flows and driving conditions found in urban areas, in addition to motorways trunk roads and B-roads.
CAVStar® combines data from a suite of state-of-the-art sensors, including cameras, Radar and LiDAR, together with artificial intelligence technology to deliver Level 4 autonomous driving capability – in all weather conditions
The latest-generation CAVStar® technology will equip a zero-emissions Enviro100AEV electric bus from project partner Alexander Dennis
Traffic light phasing data will enable the buses to travel non-stop from one green light to the next, further enhancing energy efficiency, traffic flow and passenger comfort, and reducing particulate emissions from brakes and tyres
Bristol, 1st February 2023, Fusion Processing Ltd will continue to develop its CAVStar® Automated Driving System as part of the second phase of the successful CAVForth autonomous bus project in Scotland, which will feature a longer, more challenging route.
Known as CAVForth 2, the £10.4 million-expansion of the UK government- and industry-funded project will see the current route between Edinburgh and Fife extended an additional five miles into Dunfermline city centre. The complex driving conditions and traffic flows found in urban areas will enable further testing and development of the buses' Level 4 autonomous driving capability along the 19-mile route.
The aim of the project is to prove how autonomous buses can improve journey times and quality of service for customers while also reducing energy consumption and emissions. Consortium lead Fusion Processing's latest generation CAVStar® Automated Driving technology will be fitted to a fully-electric Enviro100AEV bus from consortium partner Alexander Dennis. This will join the existing test fleet of five Enviro200AV diesel buses, which are capable of carrying over 10,000 passengers a week.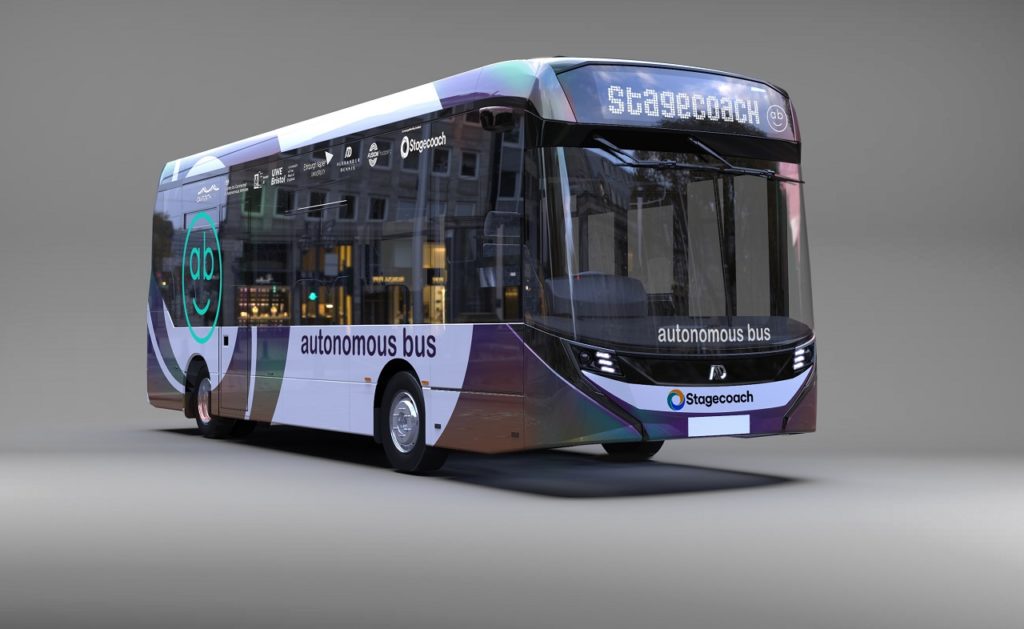 Jim Hutchinson, CEO, Fusion Processing, said: "CAVForth2 builds on our extensive experience in developing a fleet of five full size SAE Level 4 autonomous buses, engineered to operate safely on public roads and extends the route by a further five miles into a more complex urban environment. We have every confidence that the next generation of our CAVstar® Automated Drive System, which combines a range of Radar, LiDAR and optical sensors with state-of-the-art artificial intelligence processing units, will be up to the task."
Business Secretary Grant Shapps said: "In just a few years' time, the business of self-driving vehicles could add tens of billions to our economy and create tens of thousands of jobs across the UK. This is a massive opportunity to drive forward our priority to grow the economy, which we are determined to seize.
"The support we are providing today will help our transport and technology pioneers steal a march on the global competition, by turning their bright ideas into market-ready products sooner than anyone else."
Alexander Dennis's Head of Concepts and Advanced Engineering, Jamie Wilson, said: "This renewed support from the Centre for Connected and Autonomous Vehicles builds on our achievements in the CAVForth project and will allow us to further develop autonomous bus technology here in the UK. This ensures the British bus industry remains at the forefront of global trends and helps secure jobs in the automotive industry. Our new Enviro100AEV will demonstrate another use case for our extremely versatile next-generation electric bus as Alexander Dennis continues to lead the transition to zero-emission mobility."
Carla Stockton-Jones, UK Managing Director of Stagecoach, said: "We're very proud to be pioneers of this technology with our plans to roll out the UK's first full-sized autonomous bus in Scotland in the spring.
"The government funding announced today means that we can build further on this achievement by advancing the technology as we extend our Scottish bus trial to cover a longer route.
"We look forward to working with our partners across the country to roll out CAVForth and the other autonomous projects awarded funding today, which will all help to ensure that the UK remains firmly on the map for its advancements in autonomous technology."
Even among highly trained bus drivers, driving style can have a significant effect on fuel consumption: as much as 20 per cent. This variance, across a fleet of buses, can result in greater operating costs as well as increased emissions and environmental impact.
An autonomous bus running with the latest CAVStar® technology uses data from a suite of state-of-the-art sensors including cameras, LiDAR and Radar together with artificial intelligence processing to deliver optimum efficiency throughout the journey, in all traffic conditions – and in all weathers. In addition, receiving information directly from traffic light systems enables the bus to plan its speed to run smoothly run from one green light to the next.
This intelligent autonomous driving reduces unnecessary braking and accelerating, delivering a smoother, more comfortable ride for passengers and contributing to less wear on brakes and tyres, with corresponding reductions in particulate emissions. Dust from brakes and tyres will be included in EU emissions regulations for the first time as part of the Proposals for Euro VII, further highlighting the benefits of autonomous vehicles within public transport networks in efforts to improve air quality, especially in cities.
Fusion Processing's CAVStar® technology is capable of operating at SAE Level 4 and features redundancy on all safety critical systems. and this together with additional redundancy built into the steering and braking systems means that a human driver is not needed behind the wheel. But as with the first CAVForth project, the CAVForth 2 fleet will have specially-trained safety drivers on board to monitor the vehicles' autonomous systems, together with a bus 'Captain' who will walk throughout the passenger deck, assisting customers and answering any questions they may have.
CAVForth2 is funded by the UK government's Centre for Connected and Autonomous Vehicles (CCAV) and project partners Fusion Processing Ltd, Alexander Dennis, Stagecoach, Transport Scotland, Edinburgh Napier University and Bristol Robotics Laboratory, UWE.