Budapest-based KAMManufaktur restores and enhances original 912 sports cars to restomod perfection
The prototype KAMM 912c launched in September 2022, today the full production specification is revealed
A number of enhancements have been made including new suspension, fuel injection, brakes, and ECU, along with new gearbox and steering ratios
Full carbon fibre body now available as an option on all production cars
Optional track focused engine tune, exhaust, and tyres also available
Budapest: 16th May 2023 
Budapest-based KAMManufaktur has developed the 912c over many years, engineering in performance whilst also retaining and enhancing usability in every element. The company launched the 912c prototype in September 2022 to positive reviews and comments from all around the world.
In prototype form the 912c had a specification biased towards the track, which created an exciting, yet demanding drive. The production specification 912c launched today, has been further revised to be equally at home on street and track whilst remaining true to the KAMM ethos of Dare to Drive, with exhilarating performance, analogue feel, and a unique ability to truly excel at daily driving and track use.
The road legal, production specification KAMM 912c weighs just 750kg wet. Its 2.0 JPS Aircooled engine produces 190hp, 228 nm of torque and has the highest bhp per litre of any air-cooled street engine, offering 95hp per litre, compared to 82bhp per litre from the Porsche 2.2S and 78bhp per litre from the 2.7 RS.
The key upgrades for production specification are as follows:
2.0 JPS Aircooled 616 engine producing 190hp and 228nm of torque, featuring uprated case, heads, and rods, with a 7200rpm redline
TracTive-based KAMM semi-active coilover suspension. Multi-stage, electronically adjustable (via a 5-position analogue dial located in the cabin). Levels pre-set by KAMM engineers to offer the perfect balance for road and track
KAMM electronic fuel injection and throttle bodies replace carburetters to provide constant performance levels in all environments, ease of starting and improved power and torque
Life Racing ECU and PDM added to aid regular use and provide the ability to obtain detailed engine diagnostics
APC brakes all-round for improved performance and reduced unsprung weight
Bespoke stainless steel road exhaust system with improved silencing and catalysts
Revised gear ratios to improve high-speed cruising
Revised steering rack gearing – 2.5 turns lock-to-lock (compared to 1.7 on prototype)
Option of a full carbon fibre bodyshell – semi-carbon body as standard
Option of centre-lock or 5-stud wheels in a number of designs
Option of track-tuned engine
KAMM creates lightweight cars designed to be driven, the driver presented with all they require for the sport of driving and no more. Improving on perfection, without compromise, KAMM builds on the existing greatness of the classic 912 to create the stunning 912c offered with an enviable standard specification.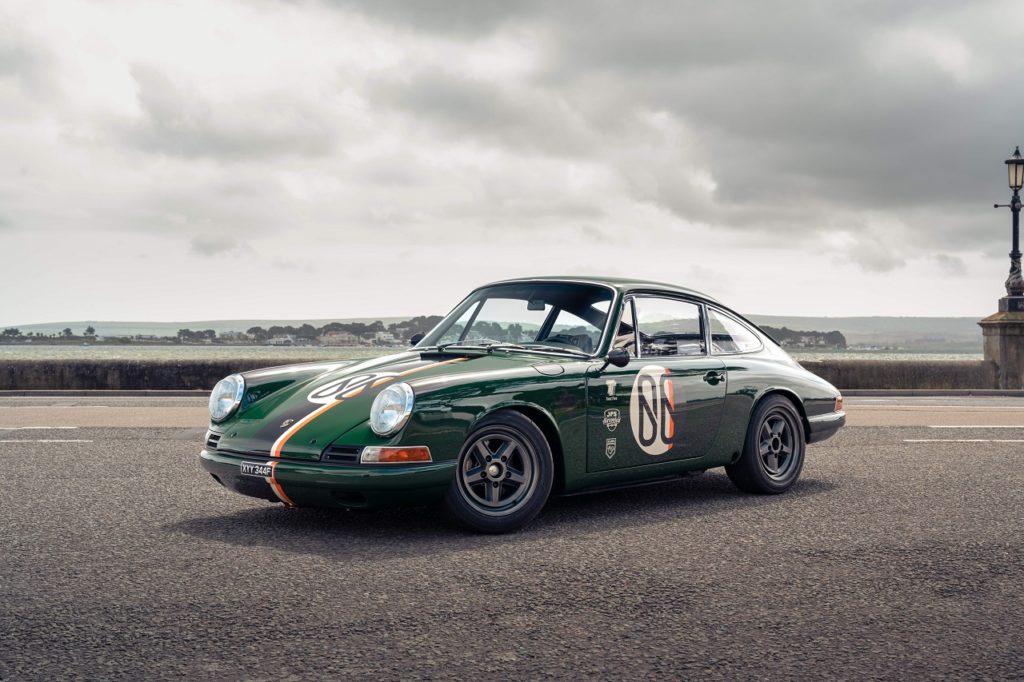 Body
Fully restored 912 with reinforced body and chassis
Option of full carbon fibre body (semi-carbon body as standard)
Lightweight Lexan polycarbonate windows
New, original equipment 912 body trim
KAMM carbon fibre racing mirrors
Engine
912, 2.0 litre, 4-cylinder JPS Aircooled 616 engine
Fast road/ trackday tune: 190hp/ 228nm, max revs 7200rpm
KAMM electronic fuel injection and DBW throttle bodies
KAMM carbon Carrera cooling
KAMM stainless steel exhaust system
Life Racing ECU and PDM
Gearbox
901 5-speed with dogleg gate pattern
Optional close ratios for motorsport use
ZF Limited Slip Differential  
Porsche aluminium, hydraulic, racing clutch
KAMM carbon gearshift lever and bespoke linkage
Chassis
TracTive-based semi-active front and rear coilover suspension
AP Racing braking system with ventilated discs and hydraulic handbrake
Centre-lock, 3-piece bespoke wheels (R15 J7)
Wheel options: 3-piece 917 style (R15 J7), Steel-look alloy (R15/R16 J6), heritage Fuchs (R15 J6)
Choice of road tyres and Yokohama semi-slick
Interior
KAMM bespoke carbon fibre seats
Optional period KAMM bucket seat or Kamm comfort seats
Electronic air-conditioning
Lightweight carpeting
Carbon fibre interior trim
AP Racing pedal box
KAMM engineers beautifully restore every classic donor car to perfection, creating the perfect base template on which to build the KAMM 912c. Steel is replaced with KAMM produced carbon fibre, seamlessly blended without trace to ensure a flawless finish and perfect fit. Numerous bespoke parts are designed and built at KAMM HQ to create the 912c, with every component improving the car, whilst retaining its classic feel.
The 912c looks and feels period correct with modern touches adding unseen improvements and enhancements. It appears to be an all-original classic, which stands up to close scrutiny, improving the iconic 912 without losing its style, ethos, or character. The result is a dynamically exciting, classic racer which delights the senses whilst offering a level of usability not found in traditional classic racing cars.
Swiss motorsport experts JPS Aircooled assist with the creation of a bespoke, high-performance 4-cylinder engine providing ultimate reliability combined with exemplary performance.
KAMM engineers heavily enhance the chassis, brakes, suspension, wheels, and tyres and replace all original elements with brand new, factory parts including lights, fixings, and rubbers.
Every 912c is built to order. After a detailed consultation with KAMM founder Miklós Kázmér, to fully understand a buyers individual needs, the 912c is created to perform and look exactly as the owner wants it to. Unlimited paint options and individual interior redesigns complete the transformation before a thorough road and track evaluation to ensure every 912c is worthy of the KAMM name.
Official production of the KAMM 912c started in January of this year when the creation of the first customer car, destined for the United States, commenced along with a number of other builds destined for delivery around the world.
KAMManufaktur Founder Miklós Kázmér said, "I am delighted to present the production specification KAMM 912c to the world. To receive such high praise for our prototype was a proud moment for us, and we feel confident the production specification will be equally well received. The 912c is designed to be as usable as a modern car but retains the driving experience of a classic racing car. We provide reliability and performance with the analogue feel you would expect from a sports car of the sixties, and this makes it unique in the restomod sector."
As a result of the enhanced specification, the 2023 KAMM 912c is now priced at €360,000 which includes a donor 912. Customers can also choose to use their own 912 for conversion, which is then priced at €320,000. Only two build slots remain for 2023.
The production specification KAMM 912c will be in the UK for media evaluation throughout Summer 2023. Interested media should contact us to discuss drive opportunities and reviews.  
More photographs available on request
Additional information on KAMM and the KAMM 912c can be found here