Two of the most frequently asked questions about our fully electric XC40 Recharge and C40 Recharge are: "How far will it go on a single charge?" and "How long does it take to charge?"
As part of a new package of product updates, we've now improved both the range (WLTP) and charging for the XC40 Recharge and C40 Recharge compared with the outgoing model year, increasing range by as much as 41 miles (66 kilometres) on some variants*.
Furthermore, three** new powertrains are offered on the C40 Recharge and XC40 Recharge. These include two*** rear-wheel-drive variants – the first time in 25 years that we're offering a rear-wheel-drive product – as well as a revised all-wheel-drive performance model.
Another first for us is that the second-generation permanent magnet electric motor driving the rear axles for the fully electric C40 and XC40 models has been developed in-house at Volvo Cars.
"These updates are another big step in our work towards becoming a fully electric car maker by 2030," said Javier Varela, our Chief Operating Officer and Deputy Chief Executive. "Range and charging times are new key factors for more and more of our customers, and these improvements make our fully electric models even more attractive than they already were."
The return of rear-wheel power
Let's start with the two new rear-wheel-drive powertrain options. The single motor with standard range is driven by a 175kW permanent magnet electric motor (e-motor), which provides a three per cent increase in power output over the outgoing 170kW single-motor front-wheel-drive variant.
In the XC40 Recharge single motor, the same 69kWh battery capacity is carried over, but enhancements in cooling efficiency mean it can now deliver increased range and driving up to 286 miles (461 kilometres) according to the WLTP test cycle, compared with 264 miles (425 kilometres) before (WLTP).
The range of the C40 Recharge single motor, meanwhile, improves up to 296 miles (476 kilometres) from 272 miles (438 kilometres) (WLTP). A 10-80 per cent charge takes approximately 34 minutes using a 130kW DC public charger.
If you feel the need for more power and range, you can also opt for a larger battery coupled with a more powerful 185kW permanent magnet e-motor on the rear axle****. This second new variant comes with an 82kWh battery pack, which boosts range up to 320 miles (515 kilometres) for the XC40 Recharge single motor extended range and up to 331 miles (533 kilometres) (WLTP) for the C40 Recharge single motor extended range.
Here, too, charging power has improved because the larger battery pack allows for charging at an updated top rate of 200kW DC (previously 150kW DC maximum), while a 10-80 per cent charge takes approximately 28 minutes.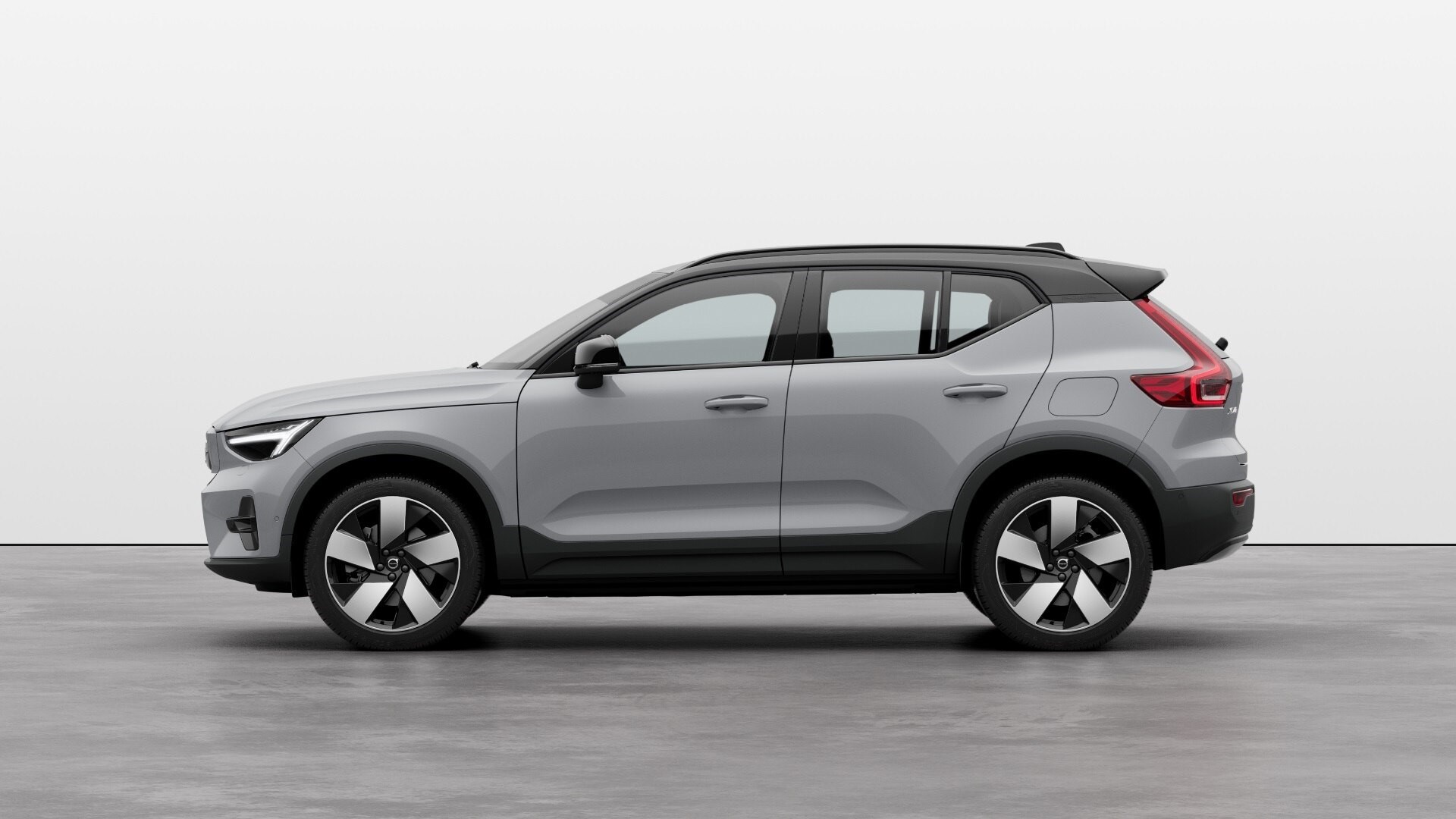 An updated all-wheel-drive variant
The all-wheel-drive variants also benefit from these updates, realising even more impressive range improvements. The previous set-up of two 150kW e-motors on the front and rear axles has been replaced by our in-house-developed 183kW permanent magnet e-motor on the rear axle and a new 117kW asynchronous electric motor on the front axle.
This new configuration, paired with an 82kWh battery pack and overall efficiency improvements in battery cooling, means the XC40 Recharge Twin Motor AWD can now drive up to 311 miles (500 kilometres) on a single charge, a 39-mile (62-kilometre) boost over the previous iteration. The range of the C40 Recharge Twin Motor AWD has improved up to 315 miles (507 kilometres) from 280 miles (451 kilometres) (WLTP).
Exterior updates also help to improve efficiency where possible. For example, a new 19-inch alloy wheel for both XC40 and C40 Recharge not only boosts the overall look of the models, but it also helps to reduce drag through its aerodynamic design.
New on-board charger in 90 and 60 series
Elsewhere in the product portfolio, the plug-in hybrid models in our 90 and 60 series get a new two-phase on-board charger that allows these models to charge at a faster rate (market dependant). The new on-board charger almost doubles the maximum charge capability of these cars to 6.4kW.
The small print
Charging times are dependent on factors such as outdoor temperature, current battery temperature, charging equipment, battery condition and car condition.
Range according to the realistic WLTP driving cycle under controlled conditions for a new car. Real-world range may vary. Figures are based on preliminary target.
Vehicle specifications and the exact customer offer may vary from one country to another. Please visit volvocars.com for further information.
* Volvo XC40 Recharge AWD version with 82kWh battery
** Two in the UK
*** One in the UK
**** Not available in the UK