Mulliner's first bespoke Bentayga EWB to be auctioned at The Naples Winter Wine Festival to benefit the Naples Children & Education Foundation 
Auction winner will receive Bentley's latest pinnacle product, a bespoke Bentayga Extended Wheelbase Azure
Raised 4 per cent contributed in 2023
Bold exterior specification with an Amethyst hidden delights interior by Mulliner
Specification curated with Mulliner by Bentley Naples for the auction
Ultimate SUV extended by 180 mm offering the best-in-class interior dimensions compared to other luxury models, with the Bentley Airline Seat specification the most advanced seat ever
New focus on wellness with world-first auto climate rear seat controls
(Naples Florida, February 6, 2023) The first bespoke Bentayga EWB will be auctioned for charity at this year's Naples's Winter Wine Festival. Bentley's latest pinnacle product took part in the Naples Winter Wine Festival (NWWF), raising $1million of the total auction proceeds, totalling upwards of $25million to benefit underserved children in Florida's Collier county.              
Bentley Naples auction included delivery of this unique Bentayga Extended Wheelbase Azure crafted specifically for the Naples Winter Wine Festival.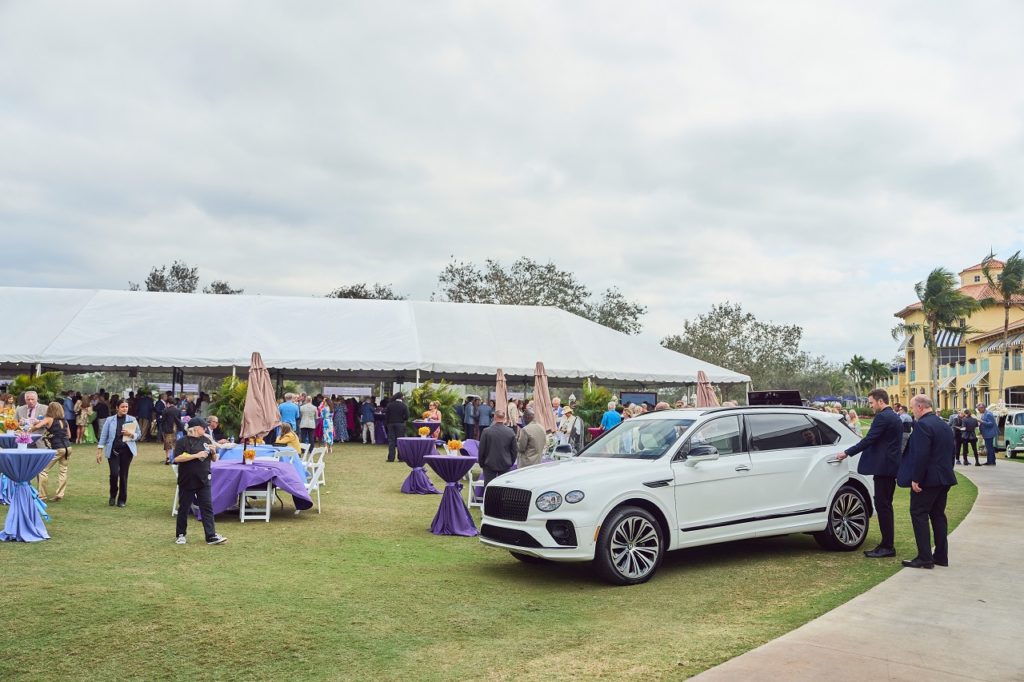 The Bentayga EWB features a three layer pearlescent Snow Quartz exterior paint. Contrasted with the Blackline Specification and finished with 22" ten spoke black painted and bright machined wheels. As a hidden delight feature, Amethyst detailing can be seen throughout the Mulliner White and Beluga Black cabin including the gear lever, door pockets, piping, and stitching. Mulliner's additional loose rear cushions also take inspiration from the wine theme and are in Amethyst with white piping too.         
Personalized Naples Winter Wine Festival tread plates add to the bespoke nature of the Bentayga. The cabin experience is enhanced with world class leading audio from Naim accented by white speaker grilles.           
In addition, the car is equipped with the most wellbeing-focused automotive seat in the world – Bentley Airline Seat Specification. The new Airline Seat Specification of the Bentayga EWB is the most advanced seat ever fitted to a car. With 22-ways of adjustment, the world's first auto climate sensing system and advanced postural adjustment technology offers the finest rear accommodation since the Mulsanne.       
Every inch of this Bentayga EWB embodies luxury, wellness, and performance for all occupants for a truly one-of-a-kind Bentley experience. In addition to this unique Bentley, the winning couple also accepted an opportunity to join the Extraordinary Journey UK programme, consisting of four nights and five days touring through England and Scotland. In addition to this, prior to joining the Extraordinary Journey UK programme, the winning couple will enjoy a bespoke extension to the trip with a curated London-based experience and a chauffeur drive upon landing in the UK.
The exquisite experience includes visiting the Home of Bentley in Crewe, England for a unique factory tour and dining experience, followed by a multi-day drive from England up into Scotland with breathtaking routes, landscapes and luxurious venues along the way. Here, the programme comes to a close with an in-depth whisky tasting and exclusive distillery experience at The Macallan Estate.         
"I'm extremely proud of Bentley Naples and our Mulliner team for creating this unique car to support a wonderful and worthy cause," said Christophe Georges, President and CEO of Bentley Americas. "Giving back and establishing purpose within the community is all part of our wider definition of sustainability."    
Since 2001, the Naples Winter Wine Festival has attracted highbrow attendees globally for both its philanthropic significance and sumptuous lot, which since its inception has served over 300,000 children in need.  
Bentley Motors is pleased to partner with the Naples Winter Wine Festival for the seven consecutive years in conjunction with Bentley Naples and is dedicated to continuing its charitable efforts with the Naples Winter Wine Festival and beyond.
Jason Reidel, Managing Partner of Bentley Naples, shared: "We choose to support the Naples Winter Wine Festival because this event is one of the largest fundraisers in the country and all the donations raised stay in Collier County and go directly to the children that need it most. Also, NCEF supports so many different organizations, rather than just one. Over 50 different organizations have received grants, which is incredible. We love our SWFL community and want to give back in as many ways as we possibly can, so NCEF/NWWF is a great way to directly impact lives of so many different people within the community. Their website reads that over 300,000 lives have been impacted since the festival has been implemented. We are helping to change the lives of hundreds of thousands of people and we hope to continue to partner with NCEF not only as a corporate partner, but also in curating exciting lots for many years to come."
"We are thrilled to have this extraordinary vehicle auctioned at this year's Naples Winter Wine Festival, helping to raise funds benefitting at-risk and underprivileged children in our community" said NCEF Immediate Past Chair Paul Hills. "This unique, one-of-a-kind car is truly stunning and builds upon our tremendous partnership with Bentley as an exceptional luxury automaker and the Naples Winter Wine Festival as one of the world's top charity wine auctions."