Dua Lipa is a renowned British singer, songwriter, and model who has taken the music world by storm with her soulful voice, catchy tunes, and distinctive fashion. Born on August 22, 1995, in London, Lipa's journey to stardom began from humble beginnings, and she has since become one of the most influential and successful artists of her generation.
From an early age, Lipa's passion for music and performing was evident. She was inspired by her father, a musician from Kosovo, who nurtured her talent and encouraged her to pursue a career in the industry. At the age of 14, she started posting covers of her favorite songs on YouTube, showcasing her soulful voice and captivating stage presence. Lipa's unique blend of pop, R&B, and contemporary sound quickly gained attention and drew a growing fanbase.
In 2015, Lipa signed with Warner Bros. Records and released her debut single, "New Love." The song achieved significant success, paving the way for her breakthrough hit, "Be the One," the following year. Both tracks showcased Lipa's powerful vocals and marked the beginning of her meteoric rise in the music scene.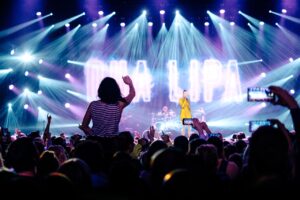 Lipa's self-titled debut album was released in 2017 and brought her global recognition. The album featured several chart-topping singles, including "Blow Your Mind (Mwah)" and "IDGAF." Her unique sound, combined with her empowering lyrics, resonated with audiences around the world and established her as a force to be reckoned with in the music industry.
One of Lipa's most notable successes came in 2018, with the release of her single "One Kiss," a collaboration with DJ Calvin Harris. The track became a huge hit, topping charts in multiple countries. It solidified Lipa's international appeal and earned her numerous awards, including the Brit Award for British Single of the Year.
Known for her distinctive fashion sense, Lipa has also made a significant impact on the world of style and beauty. Her bold and fearless approach to fashion has made her a style icon among her fans. Whether she is seen on the red carpet or posting on social media, Lipa's unique and trendsetting outfits never fail to make a statement.
Beyond her music and fashion, Lipa uses her platform to advocate for important social causes. She has been an outspoken supporter of the LGBTQ+ community and has actively fought for women's rights. Lipa encourages her fans to embrace their individuality, promoting self-confidence and positivity.
In 2020, Lipa released her highly anticipated second studio album, "Future Nostalgia." The album garnered critical acclaim and spawned hits such as "Don't Start Now" and "Break My Heart." With a sound that pays homage to disco and pop music of the past while still feeling fresh and modern, Lipa proved her ability to evolve as an artist and capture the hearts of millions.
Thanks to her incredible talent, infectious energy, and genuine connection with her fans, Lipa has become an international superstar. She has won numerous awards, including Grammy Awards, Brit Awards, and MTV Video Music Awards. Her success shows no signs of slowing down, as she continues to create innovative music that resonates with diverse audiences worldwide.
Whether you're captivated by her powerful vocals, influenced by her fashion choices, or inspired by her activism, Dua Lipa's impact on the music industry and popular culture cannot be denied. She has become a role model for aspiring artists while maintaining her authenticity and paving the way for future generations of talent. Keep an eye out for this unstoppable force as she continues to push boundaries and create iconic music that leaves an indelible mark on the world.